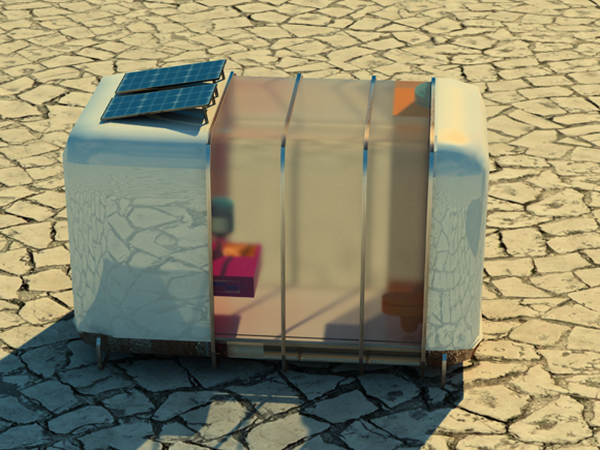 On April 6th 2009, a 6.3 Magnitude earthquake hit L'Aquila, Italy leaving over 250 people dead and more than 40,000 people homeless. Like most emergency agencies around the world, the Italian government provided relief to these people via temporary shelters and tents. But for people who may have just lost a majority of their life's savings and their homes, living in such conditions only adds to the despair. The Home-Economic Capsule project addresses the needs of the people rendered homeless by such catastrophes and looks to provide a more functional and more comforting alternative than tents and community centers.
The project basically creates a private mini-home for individuals who have lost their home and looks to provide a safe, functional space till they are ready to move into a more suitable permanent home. The modular shelter provides residents with efficient living conditions that combine all the necessary spaces required in one's routine life.
Created by Cyprian designer Letym Biotis, the project uses a set of plastic walls that can be moved and manipulated to provide optimum function within a relatively small space. The configuration of the walls can be manipulated to increase space of the living area in use. The module is finished in a translucent body that allows users to make the best use daylight while two solar panels on the roof provide electricity during the night. The module can be optimized for insulation in colder months.
The compact size of each capsule also makes it easy to transport and allows the mini-home to be placed at dedicated relief sites that can be monitored by emergency agencies. The ambitious project is currently in the concept stage although with tragedies like the devastating tsunami and earthquake that hit Japan earlier this year, we might see ideas like these make it to the production line soon.
Via: Letym Biotis