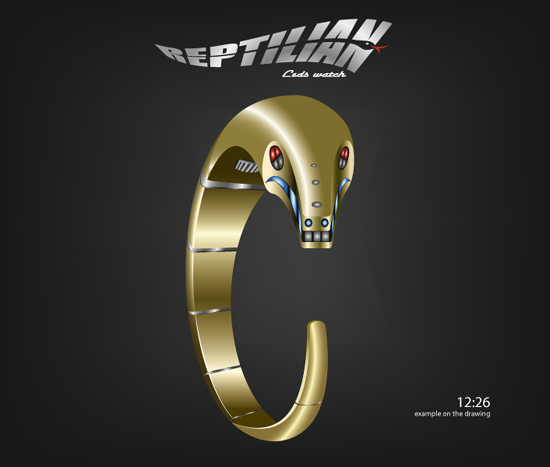 Reptiles are venomous and hideous. I don't like them and anything resembling them is the last thing I would like to have on my body. But, if you are one of those who've always nurtured a desire to tame these creatures, here's your chance to wear the Reptilian (a bracelet watch) around your wrist. And while it clings tightly to your wrist meekly obeying you whenever you want it to, enjoy the imaginary pleasure of bringing one of the wildest creatures under your control!

Reptilian seems to be an offbeat concept for a watch design, though reptilian shapes have always inspired designers. Basically it is a bracelet with a watch which displays time. Reptilian shapes are not new when it comes to accessories. You might have worn a snake-shaped watch, bracelet or earrings before. But maybe owing to the design, they were a tad inconvenient to use. The Reptilian differs from them in this respect as the creator has specifically included features for convenient usage without compromising on the uniqueness of the design.
Activating the LED, to let you see the time, does not require you to keep one hand free for the purpose. Just get the head pressed by any other part of your body effortlessly to see the time. Some people might suggest pressing it against the cheek or hip, but I like opting for lesser conspicuous (and embarrassing) actions.
The LED technology allows you to view time on your watch even in darkness. This, by itself is not a new feature, given that many other watches do have this facility, but the very easy operational facilities do make it different from the rest.
The body of the bracelet is designed for fitting almost any wrist perfectly with its flexible adjustment mechanisms. Other than easy handling and perfect fittings, the beauty of this metallic reptile in trendy aluminum, gold and silver versions, is sure to set you a class apart!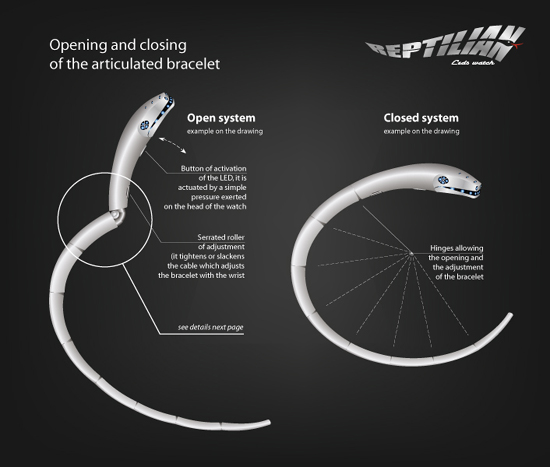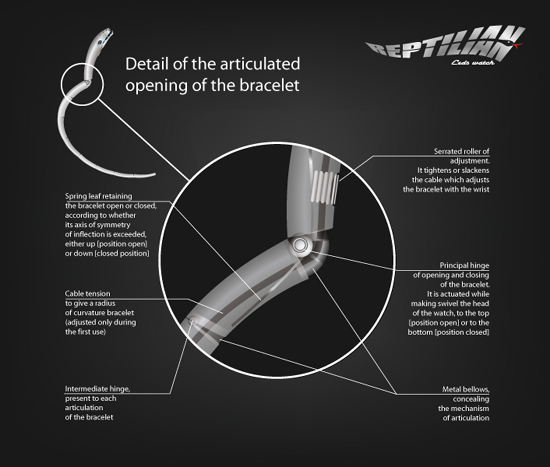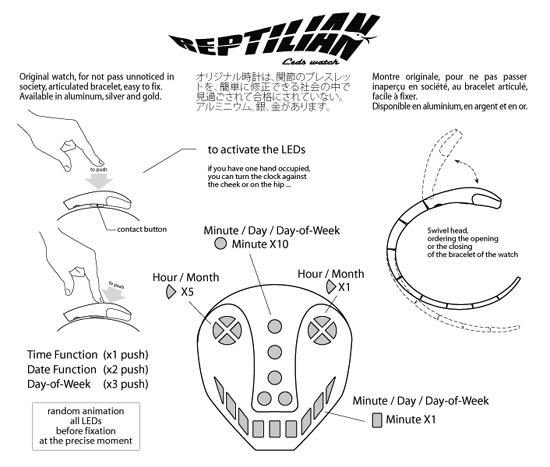 Source: Tokyo Flash