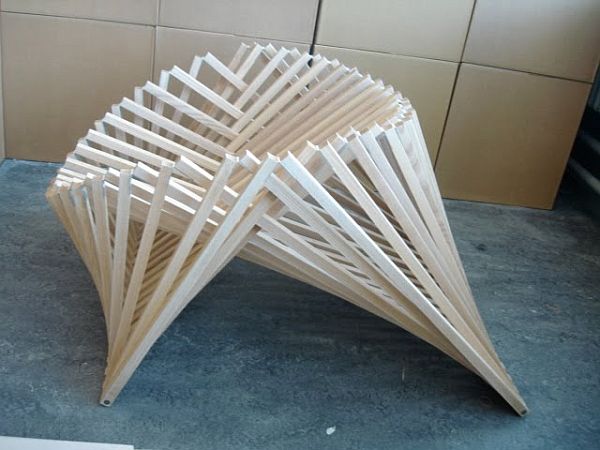 Robert van Embricqs was exploring different kinds of architecture, when he stumbled upon the idea whether an object can tell you for which form is it best suited? These thoughts led him to explore different options to create a new kind of chair which would rise from a sheet of wood to create a chair. When not in use, it can be flattened to a single sheet that can be used for other purposes.

Robert van Embricqs made a few cuts in the flat surface and pulled up the different beam strands to create a distinct features of a chair. The creator says, "The rhythm of the wooden beams gives the chair an organic shape." The sheet has a few cuts that would allow the seating area to rise, and the other parts of the beam turn downwards to create the back, and the legs.
The creator says:
The seating area of the chair can be called to attention by applying different colours. In its flat state, using a variety of colours can help define the areas on the beam that create the seat… I came across the seat design when I was experimenting with the various angles of the wooden beams. I wanted to see if it was possible to create a surface-like structure with them. The solution was to turn every odd-numbered beam in the exact opposite direction of its neighbour. This way the seat most resembles the petals of a flower. This again emphasizes the nature vibe I wanted this chair to exude.
This surely looks like an interesting concept chair.
Via: Designer's Site