Russell specializes in creating individually hand thrown pieces of ceramic art exclusively designed and made at his Studio in the UK. He has a particular interest in the aesthetics of thrown forms and the challenge of creating them on the potter's wheel. He combines this with the philosophy of working in harmony with materials and their natural physical properties. In course of an email interview, he discloses how he receives inspiration from studying the origins and evolution of pottery from various cultures worldwide.
So people whip yourself as I take you to the roller coaster ride of Russell's exclusive interview,
1. Since when did you decide to take pottery as a full fledge career?
Russell: About five years ago I was interviewed for a graphic design job at Wetheriggs pottery, located on the edge of the Lake District. I didn't get this job but was instead offered a position working in the potteries 'ceramic cafe', which I accepted. During quiet times I slowly taught myself to throw pots and was also shown various skills of the craft, such as glazing and kiln loading. It is often said about pottery, that it is something which finds you, rather than the other way around. This is very much what happened to me, and it was from here that my initial interest arose.
2. We'd love to hear your experience while you were studying 'the origins and evolution of pottery from various cultures worldwide' and dealing with antiquity?
Russell: I have been much influenced by the various ceramic traditions and cultures from around the world, especially far eastern stoneware's and classical Middle Eastern terracotta pottery. But first and foremost I am inspired by our own English country pottery, made during the 18th and 19th centuries. For me, this period was a particular high point in pottery making, where much of the country produced beautiful, honest, functional pottery, made from local materials, for local needs, and by local craftsmen.
3. What all are your biggest inspirations other than cultural inheritance? Also, I am curious to know is there any country whose historic archives you really look up to.
Russell: Over the years I have managed to build up a good reference library of pottery books, which include titles right across the subject, from modern 20th century studio pottery, through to the various worldwide vernacular ceramic traditions and histories. These books have proved to be an invaluable inspirational resource, often giving me the creative starting points for many new ideas. My inspiration also comes from the natural world. Here I find endless wonderful shapes, surface textures and patterns, which often spark ideas for new glazes and forms. I think the country, which has given me the most inspiration, and which has one of the greatest ceramic histories is China. The Chinese have always thought of pottery as being not just functional but also being decorative and have used this to great effect over several thousand years employing many, many different styles.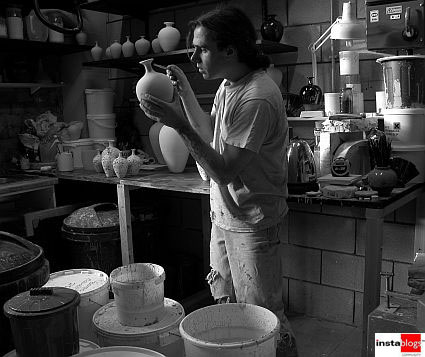 4. You have mentioned that creativity is between tradition and innovation, please substantiate a little o'er it?
Russell: Traditional or rustic ceramics generally show integrity in shape and form, which has slowly evolved over hundreds, if not thousands of years. For me, these pieces possess a spirit and dynamism, which demonstrate the skills of these unknown craftsmen. I find these pieces a wonderful creative resource, from which I draw much inspiration. Many of the ideas for my work originate from a combination of old and new. I look for aspects in certain pieces, such as the rate of change in a curve, or the way a specific glaze might enhance the presentation of a ceramic form. From these starting points I look for new ideas, I think this is how many of our arts have evolved, by each new generation of craftsmen, or artists, building on the work of the previous generation.
5. Russell, please shed some light on images of the 'Happy Accidents' which become finishing touches that breathe life into a handmade piece?
Russell: There is a certain quietness or emptiness of mind which is needed when throwing, especially with the thin-necked bottle vases. I think it is mainly from this approach that Happy Accidents breathe life into the pottery. I find that the best pots are created from working in harmony with the clay. When the wheel is spinning you have to listen to how the clay responds to your touch, it is a living material and has certain characteristics, which need to be understood. You also need to be very relaxed when throwing, it is a little bit like meditation, if you concentrate too much it just doesn't work. So I generally try to think about as little as possible when I'm at the wheel!
6. What all have your creativity spilled so far other than your studio pottery work?
Russell: In addition to my pottery work I also play the electric guitar. I find this is a good way to unwind and to let the mind drift.

7. Do you have some kind of motif running in your designs, if yes, what is it?
Russell: From studying many old vernacular pieces of pottery from various countries and cultures worldwide I have found subtle common tones and echoes, which together form a continuous unfolding of ideas in my own work. These ideas are about simplicity and elegance in design and are very much classical in approach and spirit but contemporary in implementation.
8. Are there other artists whose work you admire (local or national)?
Russell: I have found the writings of a very well known British studio potter, Bearnard Leach very inspirational. Bearnard Leach is regarded, as being the father of modern Studio Pottery in England and in the early part of the 20th century was very much a lone voice. He approached pottery making not from the industrial factory production point of view but from making more individual handmade pieces.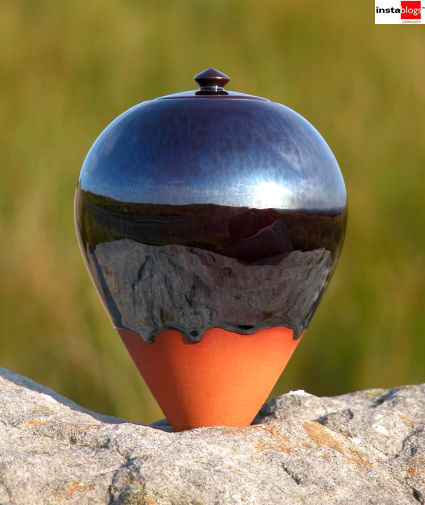 9. Where do you see yourself, after, let's say, five years from now?
Russell: I am currently working on acquiring space for a much larger studio where I can offer teaching facilities and work on some larger pieces and new designs. This project will take a good five years to complete. Beyond that I cannot see!

10. Any parting words of wisdom?
Russell: In life I feel it is important to not to profit at the expense of other people. I also feel that, if we can, we all ought to spread some laughter and kindness to help make the world a better place to live. But to me the most important of all is the ancient saying: 'first do no harm'.
11. Finally, we would like to have your thoughts on the Instablogs News Network and all its related sites. Which one is your favorite?
Russell: I first discovered instablogs after being contacted by Pooja Kashyap for this article. Since then I have spent some time, with much interest, looking around the site and have book marked it on my favorites' web site pages.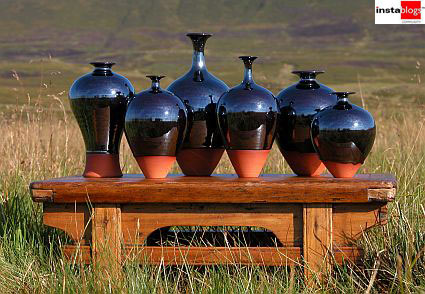 A few questions in quick succession:

1. Describe yourself in one word?
Russell: Complicated.
2. What's the last book you read?
Russell: The Dao of Tai Chi Ch'uan by Jou, Tsung Hwa.
3. Do you have a signature style? If yes, what are the hallmarks of your style?
Russell: Natural and Simple.
4. What kind of music do you prefer?
Russell: Electric Blues.
5. If given a chance, what would you like to change in the world?
Russell: Too many things to list here, but a little less aggression and more compassion would help.
Wow! That was wonderful indeed, thank you Russell for sparing out time for doing an interview with us, it is greatly appreciated, and also I'd like to wish you success for all your future endeavors.
Click in here to see more of Russell's creative genius: