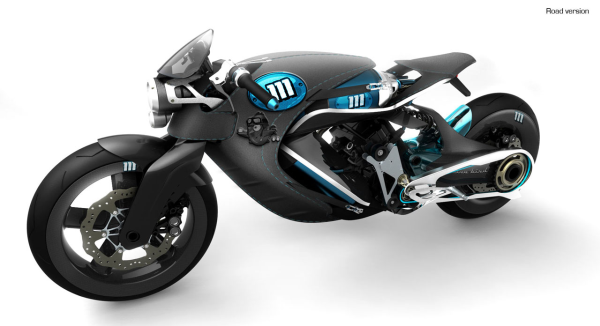 Another entrant into the world of super fast race motorbikes is the Saline Bird Concept designed by five design students – Charles-Edouard Berche, Ugo Spagnolo, Adrien Fuinel, Frederic Dobbelstein and Jean-Philippe Paries – from International School of Design in Valenciennes, France as a part of their 2010-11 final project. It's been designed for speed record-holders Les Triplettes de Bonneville. The race version of this bike can be easily converted to a road version by simply replacing the handlebar.

Pumping power into the whole design is a compressed air engine. The engine derives all its strength from three air tanks that come packed with an overall capacity of 27 litres. Helping the biker fly is the Saline's seat that has been heavily inspired by the speed skier position. This position compels the rider to lie flat on the bike, which reduces pressure on the air tanks and thereby minimizing air resistance and increasing speed.
The sexy silhouette has been gracefully carved out of carbon fibre. This frame comes wedged with all the vital technical parts lending credence to the reortedly incredible performance of the bike. Removable leather skin parts have stylishly swapped the usual body panels.
So, if you wanna make envious heads turn in your direction, keep your fingers crossed and hope for this design to turn into a road reality soon.
Via: Car Body Design