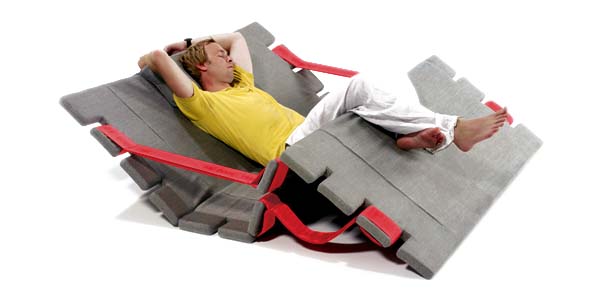 Looking at shrinking residential spaces, multifunctional items are the call of the day. Alexander Munk Design Bureau has designed the Sasan Magic Carpet that comes wrapped with multiple qualities. The carpet doubles as other furniture items and creates a comfortable space.
Its versatility will make your eyes do a somersault in surprise. Just like a multi-functional Swiss Army Knife, the carpet will shift between a soothing lounge chair and a comfortable bed (both with and without walls). Sasan has been crafted using hi-tech fabric and looks very eye-appealing. Expecting a few guests and don't have an extra bed! Fret no more, as this magical carpet will easily act as a place to catch with forty winks.
Its simple design will force you to underestimate the functions it comes wrapped with. The carpet-like furniture piece will decorate living spaces and shower an enchanting atmosphere all over. The Sasan Magic Carpet will help you relax after a hard day and leave onlookers enthralled with its plain assembly.
Via: Freshome