Thanks to the shortage of space, houses are becoming smaller and smaller. Furthermore, thanks to the trending concepts like minimalism, mindfulness, and sustainability people are further reducing the stuff in their house. They usually only prefer keeping the stuff, which serves its function but doesn't take too much of space. Therefore, keeping this in mind, the folding furniture is something that is topping the trend charts. These not only look cool, thanks to the little material used in them, they are also very inexpensive and easy to repair. Interesting, isn't it? Take a look at all these fascinating space saving and designer folding furniture designs:
8 – Space Saving Folding Furniture Designs
1. Folding Barbecue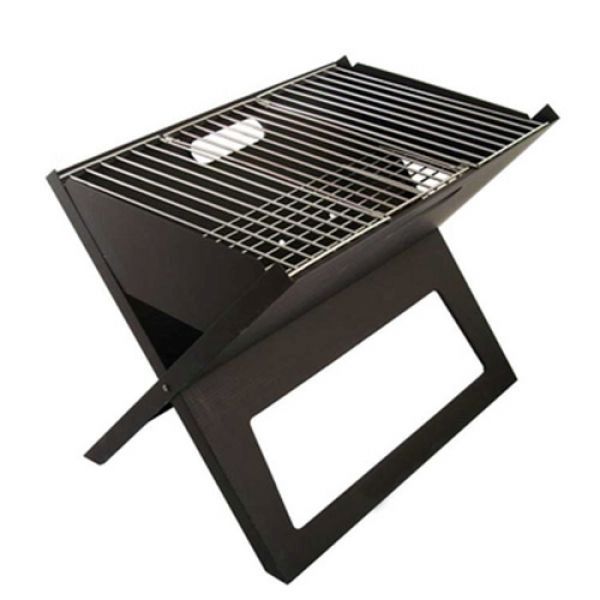 Let's not get into the debate whether a barbecue should be classified as a piece of furniture or not. Emphasizing more on its utility the folding barbecue is a superb space saver. Who doesn't like grilling in his backyard? Often we have to compromise with the save in the backyard and limit our activities because of the grill. Thanks to the concept of a folding grill, the fire bowl folds back on the large black metal plate. The large black metal plate that holds the fire bowl can be mounted on any wall. You can easily fix the grill at a height convenient to you.
2. Folding chair and foot stool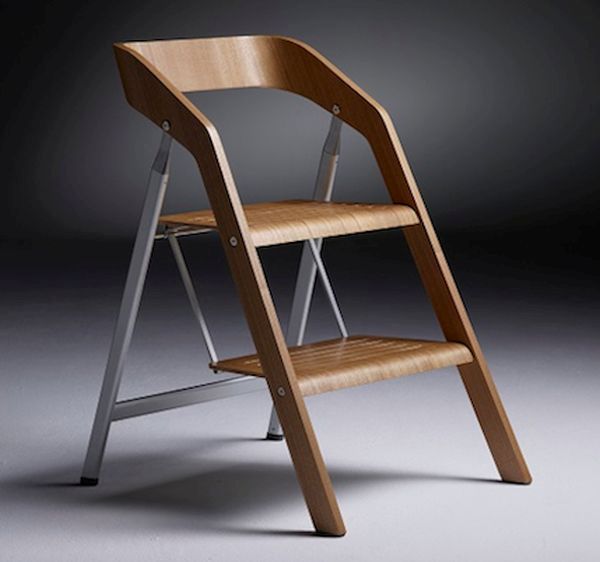 When considering a folding piece of furniture we all look for something that can occupy minimum space in the fold position. This pair of an ottoman and a chair is just like what we look for, they fold and become flat like a piece of cardboard. You can also keep these in the boot of your car and carry it on a vacation. When opened these are inclined diagonally and posses a stylish shape and design.
3. Folding shower bench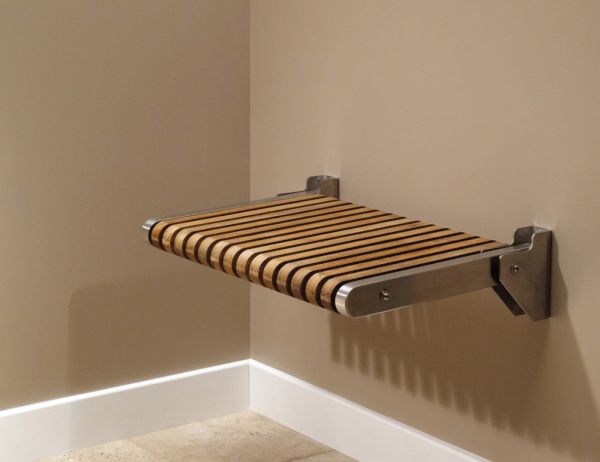 Taking a shower is one of the most relaxing things one can do in a shower. Sitting under a shower can help us refresh our senses. Moving a piece of furniture in and out of the shower frequently could be a pain in the back, and quite irritating as well. The solution is, this folding bench made out of teak wood. The depth of the seat is slightly more than a feet and width is slightly less than three feet. The frame holding the wooden planks is of high quality stainless steel. Relax under the shower sitting on this bench and fold it any time you want more space in the bathroom.
4. A folding table for your balcony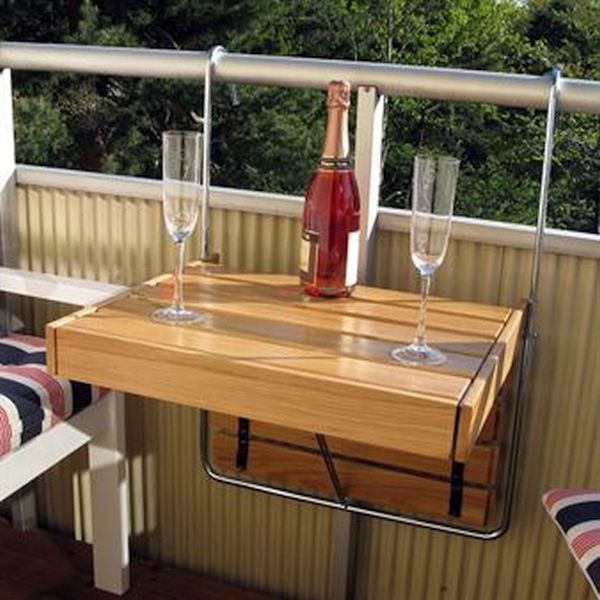 You probably love to spent time in the balcony admiring the great view and taking the fresh air. Balcony is also a cool place to eat and rejoice. We don't want to occupy the limited space with a large piece of furniture, to place the food and stuff. This small folding table will cling on to the railing and render you the space you need. It is simple, stylish and uses a stainless steel frame to hold the table. The table folds flat downwards and your balcony becomes spacious again.
5. 'Magic' mobile table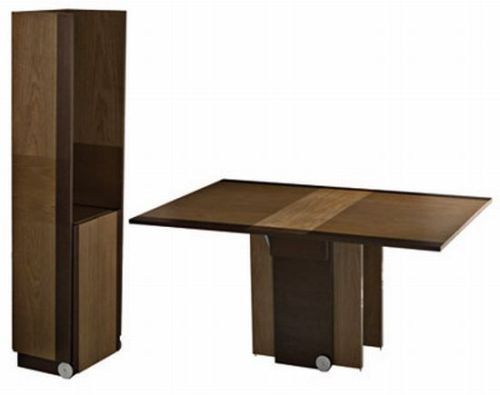 The dearth of adequate living space has been the bane of the modern "apartment" lifestyle. A dining table clearly becomes more of a hassle than a necessity. Still, guests won't eat off the kitchen shelf. The answer to such a dilemma is the mobile folding table called "Magic." The Magic table is a classic product from Puntmobles and has been reinvented several times, thanks to a constant influx of orders.
The Magic table is a creation of Vincent Martinez and is characterized by a host of folds. It can be folded and made to stand in an upright position: a position in which it is hardly obtrusive or space-consuming. Unfold Magic to create a table good enough to seat about six to eight guests. Mobility in the design is rendered by the incorporated wheels. The Magic is available in a host of aesthetic finishes, including dark stained walnut or open pore lacquer in white, black or red. More images follow.
6. The Folding Table by Studio Dror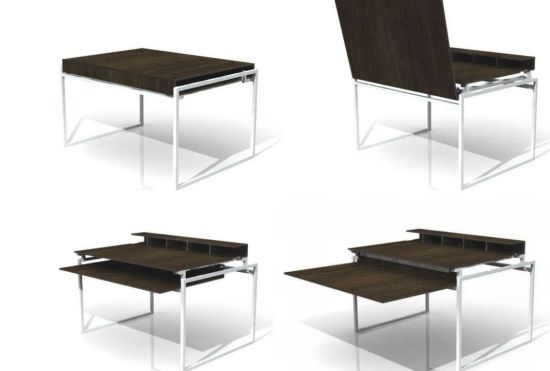 Created by Studio Dror for the Italian furniture manufacturers BBB Emmebonacina, the folding Table is a brand new innovation in the field of functional furniture design. The transformable table goes from being a clean surface to a functional workspace through a simple unfolding motion which makes it a great option for people working from home. By offering professionals the option of having a dedicated work space that can also be quickly and easily changed into being a simple and elegant bit of furniture befitting a residential space. The Folding Table in its essence keeps the sanctity of both the home and the office intact by offering a different function and a different form for each.
7. Folding Sofa by Studio Dror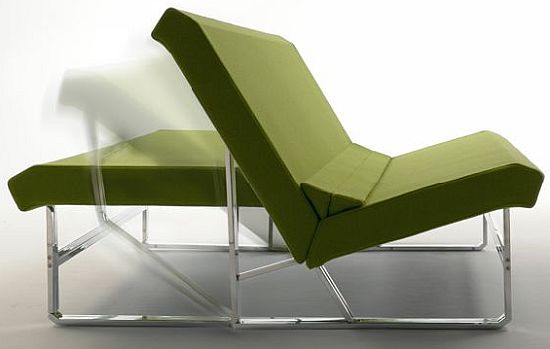 Responding to the need for versatile home furnishings, the Folding Sofa created by Studio Dror for Italian manufactures BBBemmebonacina seeks to simplify the process of setting up an emergency bed for guests. A carefully crafted series of pivot points force gravity to do most of the work simplifying the process of converting a sofa to a bed. The design itself puts user comfort at a premium while maintaining a clean, modular silhouette that could well please and flatter any modern or retro décor.
Perfect for making your home more accommodating for guests and visitors, the Folding Sofa responds to the needs of a modern home while de-cluttering the space of useless furniture.
8. Miss folding table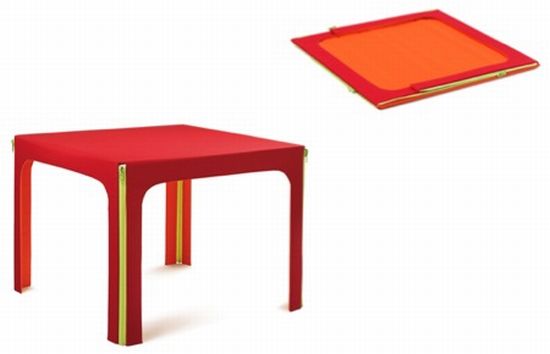 Small is beautiful, and even more beautiful when small is folded or zipped comfort. Comfort – be it lifestyle or home decor or lavish furniture, surely endorses the charm of your interiors. Bearing this in mind, Miss graciously offers the coffee table that could be doubled up to adjust in line with your mood. This really inventive notion includes a table that zip on each feet permitting a twist. It's perfect for less spacious interiors. It has magnets that allow it a kind of super imposition and does well to make it fold able. The reversible folding table is available in variable colors and designs. The handy and vivid coffee table is surely going to hold you in great esteem with your guests. This table weighs 1.8 kg and the dimensions read 550mm x 16mm.
Before buying a regular piece of furniture, we can always look for portable and/or folding furniture. These are available in great designs and can always fold back and give us the 'extra' space that the piece of furniture occupied.