Did you know that opting for public transportation isn't just budget-friendly, it's eco-friendly as well? In addition, people who commute daily by public transportation have higher satisfaction when compared to those who travel by their private vehicles. So, why not opt for it? Furthermore, to promote public transportation designers are coming up with innovative bus stop ideas like Magazine Kiosk. Keeping in mind all the needs of the commuters, the designers try to make these bus stops as functional, sustainable and commuter friendly as possible.
Magazine Kiosk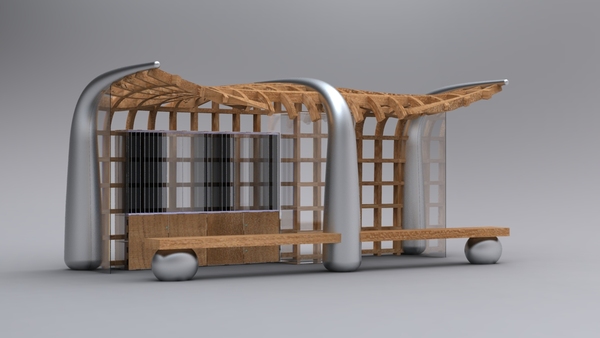 Long waits at the bus stop can make you slip in a state of boredom. Killing time while waiting for the bus to arrive can make even a few minutes seem like hours. This bus stop would be carved out aesthetically not only to shelter you from harsh weather but also provide a seating space to relax/ read is this Magazine kiosk in Mexico.
Shaped in the form of a candy dispenser, Paty Avelar's creation can stock up to 114 magazines which are on sale. Moreover, the whole frame has a very fresh and comfortable appearance. Once there, don't even think of stealing or damaging a magazine because all the reading material comes with a specific code, so locating them won't be much of a problem.
Read, relax, eat or wait, it gives you ample choices to make good use of your precious time. Bus stops with a Magazine Stand/Kiosk provide so much comfort that it won't be startling if someone leaves for the stop much before time.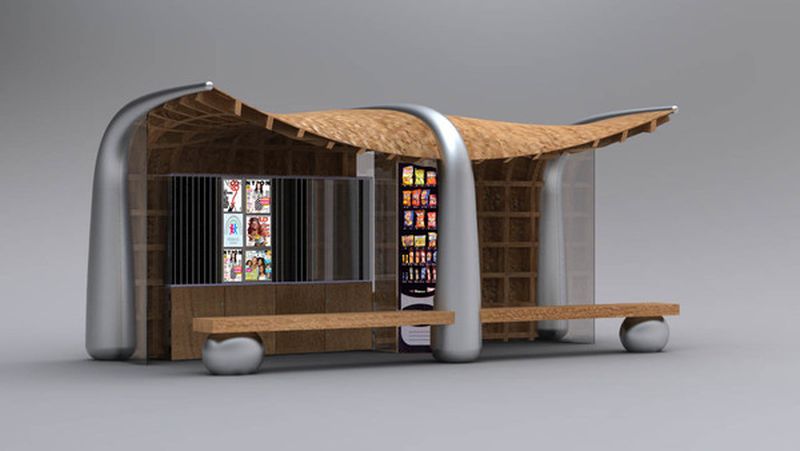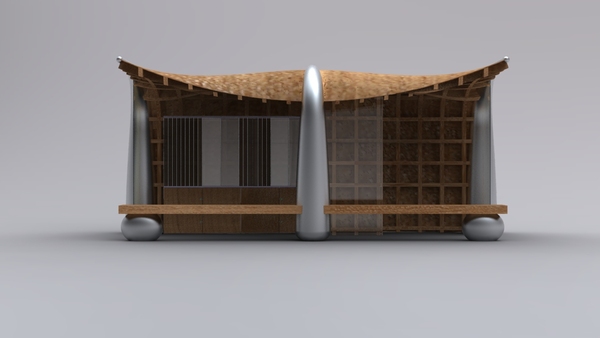 [Cheers Paty]
Some more amazing bus stop ideas like Magazine Kiosk
1. Cristal station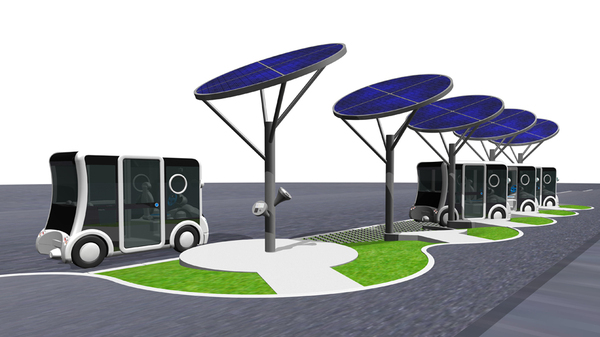 With new modes of transportation coming in – solar cars, electric cars and hybrid cars et al, you have to pep even the transportation stations to the same levels of improvement.
Keeping the same requirement in mind, a station site has been etched out. Encompassed with almost all possible amenities, including the facility for parking, recharging energy vehicles and distribution, the site is a boon for urban public transport systems, be it independent or semi-collective Cristal.
Built with an aim to bridge the gap between the car traffic zone and the pedestrian zone, the station boosts the inter-modal transfers to its neck. As you can infer it as a bus stop as well as a waiting zone at the same time by the user.
Set in the background of urbane landscape with lush green circumstancing it, the site has photovoltaic cells erected in the form of umbrellas to facilitate the charging of the vehicles running on power.
The station also facilitates the option of reservations through the calls, wherein the user can directly fetch the vehicle booked by the system operator. Furthermore, it has another added advantage. For example, if a user is on his way to the beach then he or she can replace the sand by turf and the ground alters to the roadway from the sideway. All in all, a novice concept designated to make the computation as easy as sipping water!
2. Chatham Area Transit Agora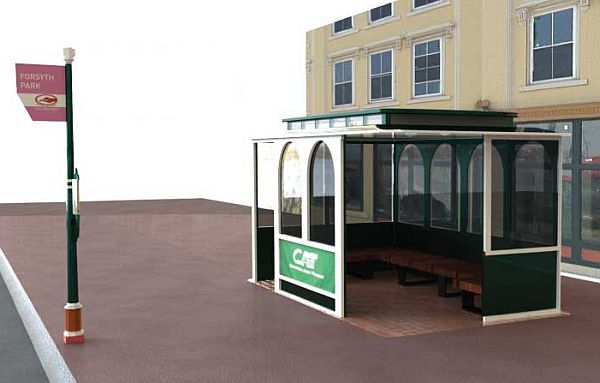 You can't tag all old things as vintage, and this holds true in case of Chatham Area Transit as well. It is the only way of transportation in Savannah, but is dying a sad death. To pump a few breaths in it, Hirotaka Matsui has come up with a plan to give it an overhaul. Named, the Chatham Area Transit Agora, the new plan is gonna be a blessing for residents as well as tourists.
The bus stand will function as a city space and will house a unique walkway, which will make boarding a bus easier. It will also have a bike stand, where visitors could park their bicycle safely. The stand wedges out with a roof to protect it from harsh weather conditions. Getting on the right bus will not be difficult at all, thanks to the maps, which will have the entire route plan.
As the dusk sets in, CAT Agora will be illuminated with beautiful lights. This will couple with mild jazz. In addition, a local radio channel would be playing it. Such features will make the atmosphere around Agora attractive and relaxing. It will also be sprinkled with tourist-friendly features like ticket purchasing and information desks. Agora will provide visitors with all the important information, without much struggle.
Chatham Area Transit Agora is user-friendly and visually very appealing. It will, with its refreshing design, make Savannah buzz with life again.
3. AqurioMania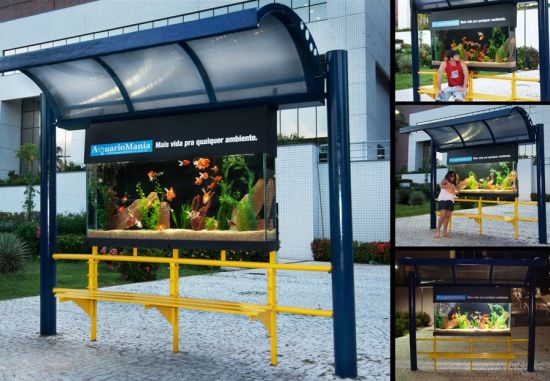 We have already witnessed some of the most amazing as well as weird bus stops in the past, but the latest design from Bolero Comunicação, Brazil is a bus shelter with the difference that just brings life to the place of boarding or leaving a bus. Hailed as "AqurioMania," the unique bus stop, replacing printed ad, features a real aquarium full of real fishes. Such marketing strategies may prove too expensive to deploy real aquariums on a large scale, but they definitely give a cool, in fact lively, look to the place we visit more than once every day.
4. Hostation bus stop hotel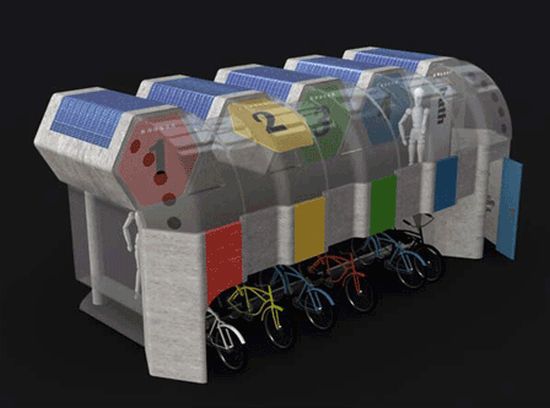 People usually have to wait for hours at bus stops, due to delayed or canceled buses, in distress, for there are either very few or no facilities in or around most of the bus stops worldwide. Developed by Baita Design, a Brazilian design studio, the "Hostation" is an innovative bus stop that includes a capsule hotel on top to reside the odd-hour travelers for an overnight stay. Comprising four capsules, which can be accessed using card keys available at airports, railway stations or tourist information centers, and one bathroom, the compact hotel is fully equipped with heating, ventilation and lighting facilities. Measuring 1.3 meters in diameter and two meters in length, the capsules also provides storage room for your bags and other stuff. Moreover, the capsule hotel features photovoltaic panels on top to fulfill its power requirements to allow a sustainable retreat for the occupants.
5. CANOPE Shelters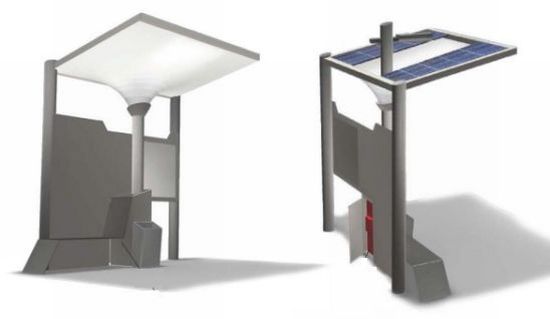 Dreaming a greener and sustainable city to live in is no longer a vision of the future. It's just our next door neighbor to humanize the urban environment with renewable sources. Nevertheless, many of the street furniture have already stepped their foot towards sustainability, and now the bus shelters are finding their way through. Laurent Guillaume has designed CANOPE bus shelter that utilizes solar and wind energy for energy-independent street furniture. All these are installed with standalone LED lightning and are easy to install in any part of the street. CANOPE is a unique way to attract people to adopting a green lifestyle.
6. Bus Stop Symbiosis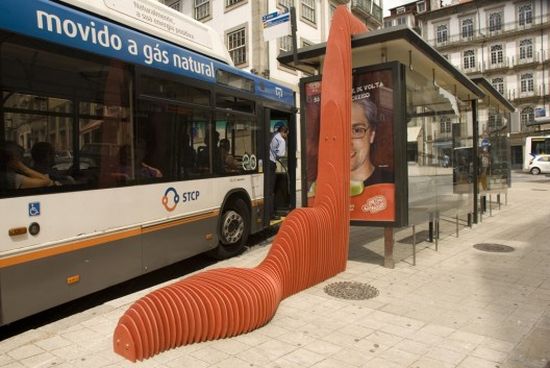 Creating temporary structures for public space is probably one of the toughest design assignments when it comes to outdoor utilities. However, Like Architects overcame the challenge to design Bus Stop Symbiosis as part of ADDICT 2010 to win the first prize in the artistic intervention category. The design is a pleasant break from the boring monotony of ordinary bus stops. By using a different seating arrangement, the designers have been able to create an interactive relationship between the user and the temporary structure.
Apart from creating an unusual space for the waiting passengers to sit the curvaceous form of the bench, the design also helps entertain the by-passers and leaves them amazed. It certainly is an improvement over the existing public structures and makes them more engaging.