Since transportation accounts for a large number of carbon emissions, preferring to go by public transport in itself reduces your carbon footprint. But, what if we told you, on top of that, even the bus stops that you go to would serve for the environment? What more can you want? If you are still in doubt about whether to ditch your car or not, take a look at these 9 extraordinary environmentally friendly bus stop concepts.
9 Environmentally Friendly Bus Stop Concepts
Nowadays, people use their own cars or vehicles for commutation, instead of public transportation services. Unique and innovative concepts in bus stop designs can certainly make more people interested in using public transport and help reduce emission of pollutants into the environment. Let us look at some such exceptional bus stop concepts in the following sections.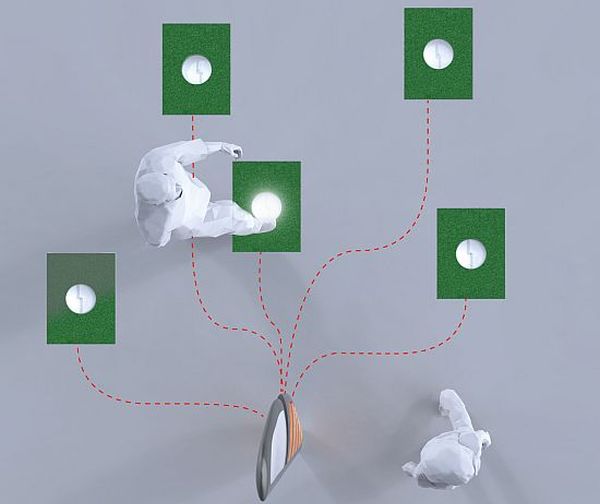 1. Sustainable Bus Stop:
This bus stop uses an innovative technique wherein energy generated from people walking inside the bus stop is used to recharge the battery packs fitted inside the bus stop. A number of power generating slabs, called the Pavegen, have been added around the bus stop in the ground. As people walk over them, the generated energy converts into electricity and thus is used for recharging the batteries.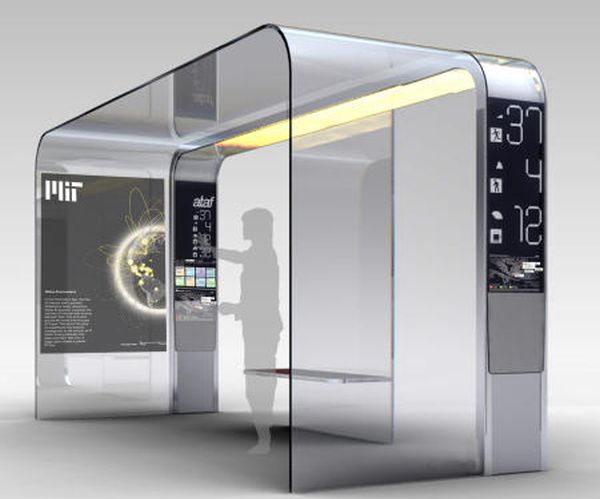 2. EyeStop:
It is a solar powered bus stop, which lets commuters carry out many activities rather than just sitting idle in a corner. The bus stop is fitted with touch screen displays, which show details about shortest route for reaching a destination or get the bus schedule. Additionally, you will also be able to browse the net, check level of pollution in the air, see where your bus is currently and use the bus stop to post ads or announcements just like any other community message board.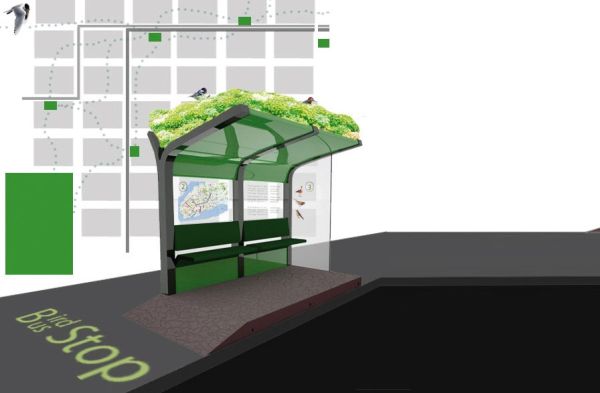 3. Bird Bus Stop:
This concept involves having local plant on rooftop of bus stops. The advantage of such implementation will be that it will attract birds and provide them with food and shelter. The reason for the selection of the bus stops is that they scatter uniformly across the city and are ideal location for such a project.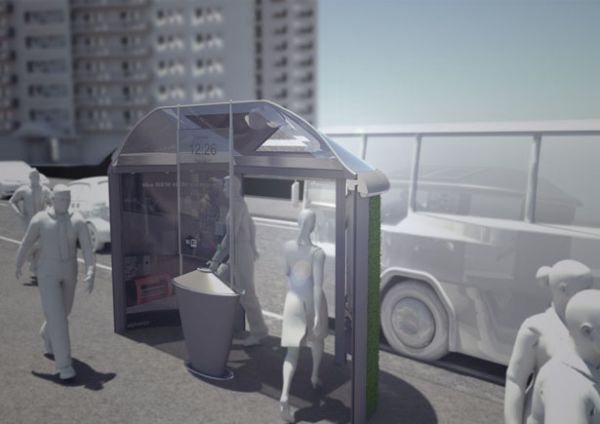 4. Bus Stop by Gavin Harvey:
This is a unique bus stop concept that can charge any electric bus wirelessly. In addition, there is provision to charge laptops and cell phones inside the bus stop, which can be quite a useful feature for daily passengers.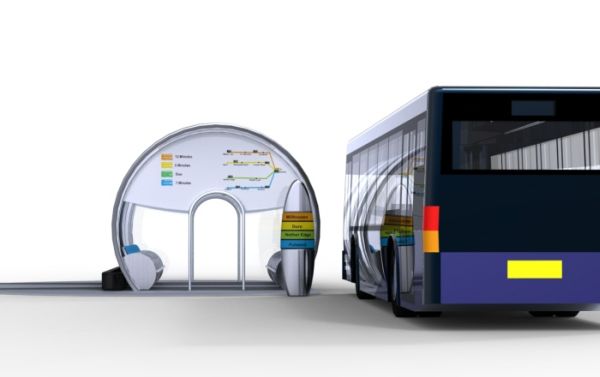 5. EchoShel:
It is a bus stop, which makes use of pressure pads and solar panels to generate electricity to power itself. In addition to it, the material used to construct the bus stop is environmentally friendly, as it could be recycled with ease in the days to come. The bus stop also shows routes in new color codes, making it simpler to understand. Moreover, it makes use of GPS to track the location of the passengers.
6. Sustainable Bus Stop at  Rubén Velasco Roldán from Madrid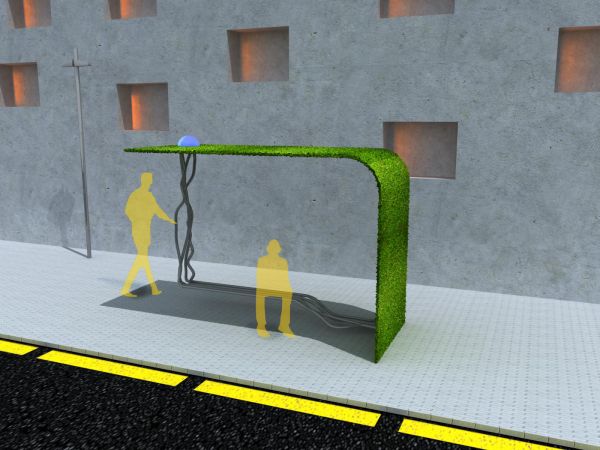 If the urban technology moves ahead and embraces nature, then what do we get: A Sustainable Bus station. Rubén Velasco Roldán from Madrid, Spain has done exactly the same. In present times, when the balance of nature is going for a toss, he has constructed a whole new arena for people who wait for a bus at the stop. If you don't have time to go till a garden or a park because of the hectic schedule, then waiting for a bus at this bus station will definitely fill this void.


Made out of an aluminum base which is further sheltered with a natural lawn (both interior and exterior), it has a seat carved out by joining a few aluminum pipes, giving an impression as if they are roots of some tropical tree.
After reading what the climate is, the whole design changes form and color. It comes with an advantage of recycling dripping water. The whole setup comes equipped with a LCD screen, which displays all the necessary information about the climate and arrival of buses. Also a LED light is placed on the top of the structure, which flashes in red or blue color, to signal the arrival of the bus.
With solar energy charging these gadgets, it surely will feel as if you are sitting in the lap of nature. Enveloped by greenery, this sustainable bus stand will definitely make your life calmer.
7. EyeStop: Futuristic bus stop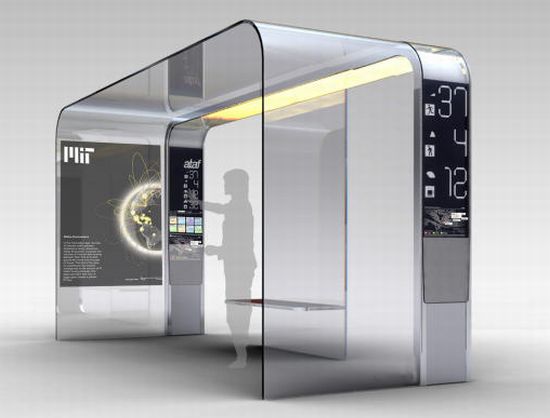 Eyestop is eveloped by MIT architects and engineers at the Genio Fiorentino festival in Florence, Italy. It is a futuristic bus stop that gives access to your mailbox and the latest news updates. Moreover, it also keeps you informed about the route and timing of buses. If this much is not enough for you, just wait. The EyeStop lets the visitors share community information on a digital message board. Furthermore, it also lets you monitor the local air quality at the touch of a finger. Covered in touch-sensitive e-ink screens, the bus stop is capable of sensing the visitors. Moreover, it also helps in collecting real-time information about the surroundings. Generating power from the sun, the radical bus stop allows the visitors to use their mobile devices. You use your cellphone as an interface with the bus shelter. This could help you plan a bus trip on its interactive map with their friends. Moreover, the EyeStop displays ads and community messages on an electronic bulletin board.
8. Solar-powered TU colibri bus stop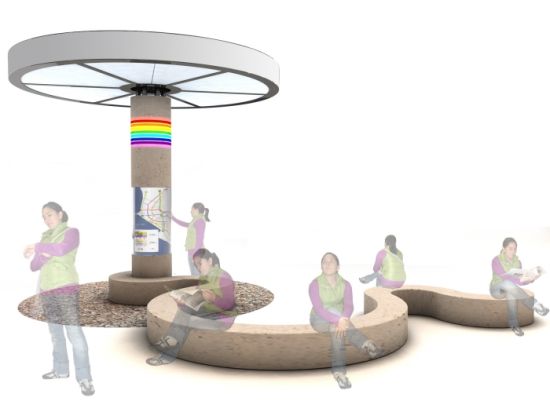 Designed to improve local public transport in Peru, the "TU colibri" by designer Beatriz Cockburn is a small yet significant bus stop concept to keep the passengers updated about the route and time of the buses. Commissioned by Peruvian national transport company TU colibri, the modular bus stop features an intuitive color identification system to recognize buses without any complication. For the color codes, in the form of changeable translucent color rings, not only facilitates easy detection of buses to the illiterate but foreigners as well.

It displays route and time statistics on the touch sensitive information block. It is sustained by a slide-support. Furthermore, the bus stop uses LED lights to indicate the changed route information. Last but not least, the TU colibri also integrates solar panels on its roof to run the bus stop on renewable energy. This allows the Peruvian residents to lead a sustainable lifestyle.
9. Abrigo do onibus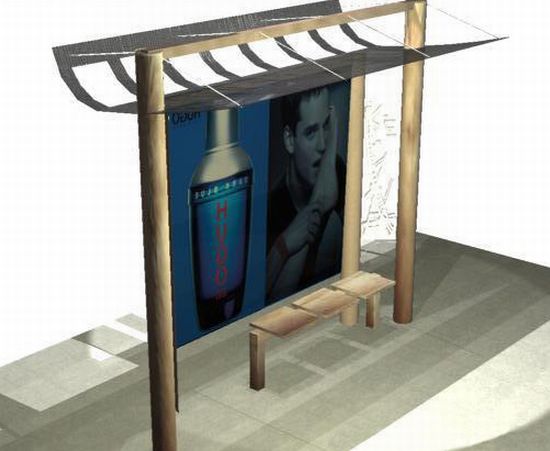 Nobody likes to wait for a bus at an overcrowded bus stop. That's the main reason most people find it better to commute in their own vehicles. Apart from being expensive, it is a reason our environment is as polluted as it is today. A team of industrial designers that includes Sergio Souza Pereira and Rafael Eller have designed a bus stop that could make your stay pleasant and comforting. "Abrigo do onibus," as the conceptual bus stop has been christened, is made from recycled wood and plastic composite lumber. It  is sheltered with a plexiglass roof. Apart from keeping it cool, this composite lumber is also very durable.  The bus stop has been bestowed with some informative aids that include an info display that lets the passenger know the number of buses plying on a desired route and their timing as well.
Summary:
These new bus stop concepts are certainly quite innovative. If implemented, they will result in greater satisfaction for passengers. Furthermore, they would also attract more people towards public transport.
Read More: