Cape Town witnessed the dreadful zero-day last year. Furthermore, many other countries that are facing drought-like conditions now are heading in the same direction. Facing such a scenario, we need ways to make sure that we utilize water as mindfully as we can. In addition, we should also make sure that we utilize rainwater to the maximum. Rainfall is a bliss. It brings portable water directly to us, but we let most of it go to waste. However, with traditional rainwater harvesting techniques, innovations like Rain Drops and other modern rainwater harvesting techniques, we can make the best use of the rainwater available to us.
Rain Drops Water Collector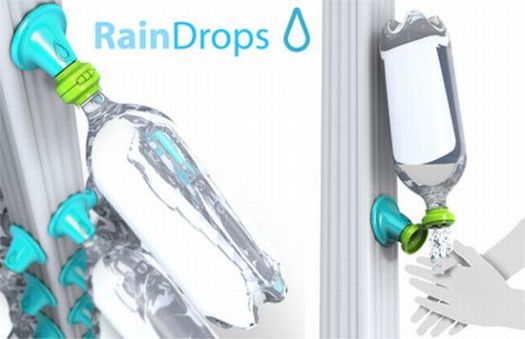 With a rapid growth in population, water crisis is looming large around the world. We may have the largest source of water- rains – around. However, some of the developing nations in Africa and Asia are failing to provide even drinking water to people. This is mainly due to a lack of proper equipment to harness natural resources. Rain Drops is a unique but inexpensive design that can solve the growing water scarcity worldwide. All the users need to do is modify the existing gutter system a bit. They adjust the standard plastic bottles that collect rainwater and use them to water garden or for washing your hands. Furthermore, they might even use them for drinking purpose after proper hygiene and filtration.'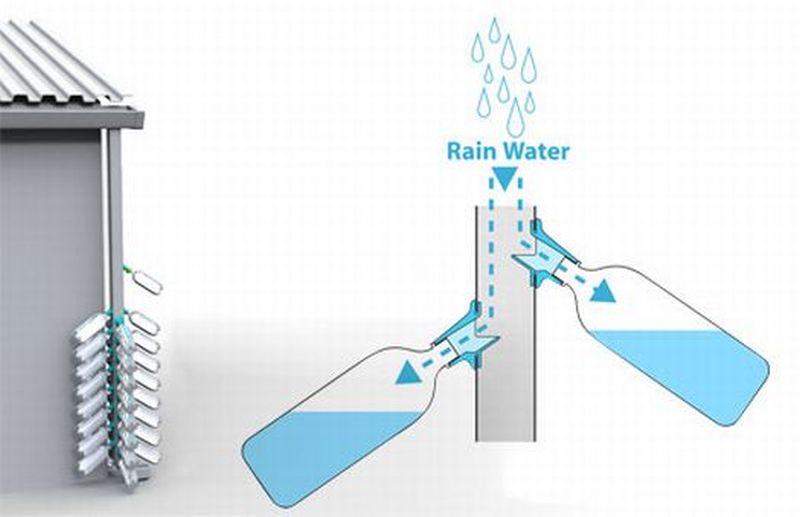 Design status:
Rain Drops is the winning entry in the Design for Poverty event.
Usability:
It allows people to adapt standard plastic bottles to an existing gutter system. Furthermore, Rain Drops is an innovative way of collecting rainwater for regular use. This rainwater would otherwise wash away into the sea and oceans. Users also need not spend heavily on the installation of expensive storage and filtration system. Rain Drops simply attaches standard plastic bottles to an existing gutter system. Moreover, It'll also help in recycling or reusing the plastic bottles, protracting earth from synthetic waste.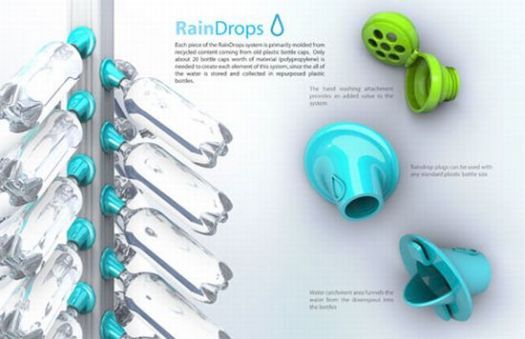 Designer:
Evan Gant is a United States based designer.
Some more rainwater harvesting systems similar to Rain Drops
1. Rainwater Play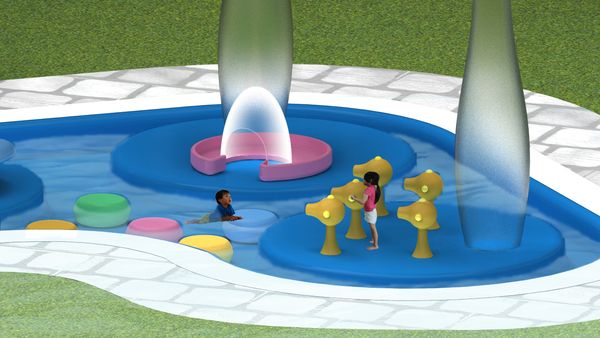 Rainwater harvesting is one of the best environmentalists' ideas to have hit the planet-saving mission in the new millennium. With the world running out of freshwater resources at a rapid pace, rainwater harvesting not only makes sense as an eco-friendly prospect but serves very practical purposes when applied to public projects as well. Rainwater Play is one such proposal that looks to harvest naturally plentiful rainfall. We can ultimately use it to create a mini-water park designed especially for children.
The project has been designed by a Singapore-based designer Elsie Teo. The project provides a water-fed play area for children. Regular playgrounds are rendered unusable in the rainy season. It is because the slides and other playground equipment are not designed to be used when it rains. This limits the activity levels of children during the rainy season in cities. This leads to children becoming dependent on video games or other indoor activities for long-duration every year.
Design
Rainwater Play gives to children a specifically flexible and safe play area. It not only works during rainy weather but during sunny weather as well. The dynamic design features dual-use components like a giant top where kids can sit and spin on in sunny weather. The same component turns into a lotus-like plaything. This lets giant water beads roll off its surface and lets the children splash each other with water by maneuvering it on its axis.
Similarly, a canopy in the middle of the park acts like an imagination-fueling castle in pleasant weather but also doubles up as a handy rain shelter when the showers hit. The frosted glass surface of canopy allows children to see and appreciate the beauty of falling rain and the rainwater harvesting process in action while the dry surface inside provides a place for them to hang out when they don't want to be in the rain.
A large water bath fills up with clean water when it rains serving as a shallow pool for children to play in. The round surface inside this area ensures maximum protection for children while various shapes and interactive features spur their imagination. The plant-like shapes scattered throughout the playground draw water from the underground water storage and can be used like water guns that lets children squirt each other with splashes of water. A charcoal filter embedded in the playground floor clean the collected rainwater so that the children are never exposed to contaminated water.
2. Umbrella Recollector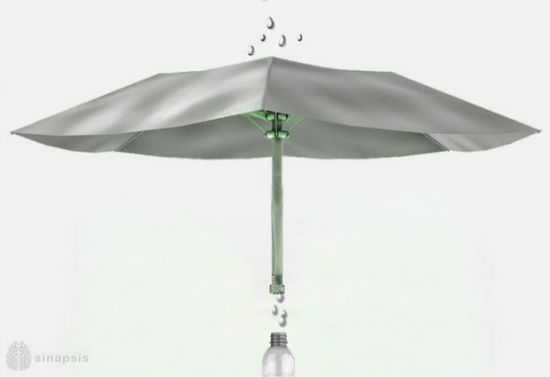 Taking cue from the rainwater flowing smoothly on the leaves, Argentine design studio Synopsis has come up with an innovative umbrella that much like the Filterbrella collects and filters the rainwater for drinking purpose. The "Umbrella Recollector," as they hail it, features a cone shaped fabric to collect rainwater, which you can pour into the water bottles after appropriate purification through built-in filter. Moreover, you can adjust the knob to screw bigger bottles and store drinking water for future use.
3. RainXchange Rain Barrel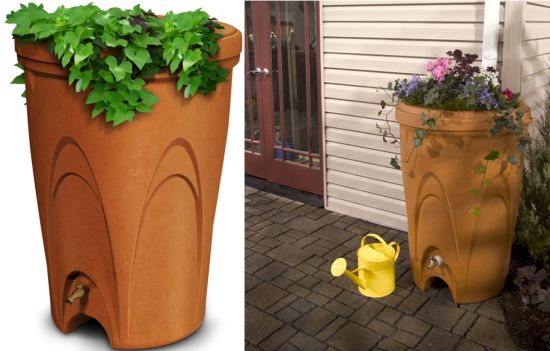 While makeshift barrels are good, decorative rain barrels are better when it comes to rainwater harvesting as they add beauty and value to your home or office setting. Aquascape's new RainXchange Rain Barrel falls under the latter category. It can be incorporated into existing gutter and drainage systems, and it creates true self-sustainability, thereby reducing the dependency on chemically-treated traditional water sources. The barrel boasts 75-gallon capacity for greater rainwater storage. It needs no electricity and a large safety overflow keeps water in the barrel or away from the house. The durable plastic walls of the barrel are able to withstand extreme condition. Other salient features include a childproof lockable lid and a brass spigot for garden hose connection. An economical and responsible solution for irrigating landscape plants, the RainXchange Rain Barrel is an aesthetically pleasing option for rainwater harvesting, storage and reuse.
4. Eol'eau: Rainwater harvesting system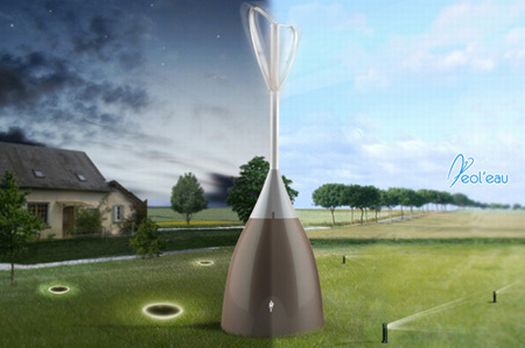 Designing is an art in itself, but few designers add meaning to their art. And Julien Bergignat is one of those rarest designers that spontaneously come to our mind while pondering over some meaningful designs. Earlier, we have covered the "Tact," a watch for the visually impaired; it's time now for another meaningful design called "Eol'eau" by the celebrated designer.
The Eol'eau is an innovative concept that not just gathers rainwater in a water tank located at the base for watering your plants and garden, but also produces electricity with the help of wind generator. Featuring a water pump to make pressure in the system, the Eol'eau can store as much as 600 liters of water in its tank. Moreover, you may add lamps to the system that will generate power from wind energy. Eol'eau is simply a functional design that if came in production will help in sustaining the environment.