Shelter becomes particularly more important during disasters. Moreover, in times when many people around the world live under the threat of terrorism and water crisis, a temporary house could prove life-saving. Well, in such a situation, what could be better than a house that folds? Yes, houses like Fold flat shelter are hybrids between tents and temporary houses. Couple them with folding furniture, and you wouldn't want anything else. In addition, when these houses are also eco-friendly, there's nothing more you would want. Therefore, take a look at the following emergency shelter designs. No matter whether you are living near oceans or mountains, you would find one that suits your specific needs.
Fold flat shelter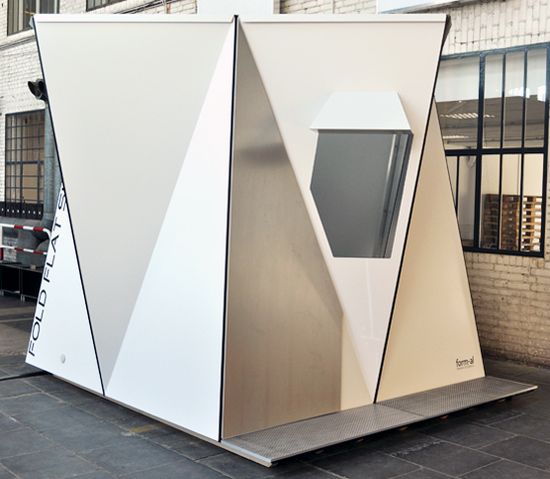 Only two decades into the 21st century and we're already witnessing homeless millions suffering from some of the worst catastrophes. Given that design for disaster relief shelters is all over our minds. German designer Adrian Lippmann, founder of interior design firm form-al has constructed a 'fold flat shelter' for the purpose. The tent-like structure designed using a variation in geometrical lines best represents design ingenuity for disaster relief shelters.
The unsupported mini house made of light composite panels is an adjustable structure. You can easily assemble or disassemble it. Furthermore, you can easily erect the structure by first folding the walls and roof to attain the shape. After that, you have to place the substructures in order to finish the simple construction. The 'Fold flat shelter' was on display at DMY International Design Festival, Berlin 2010.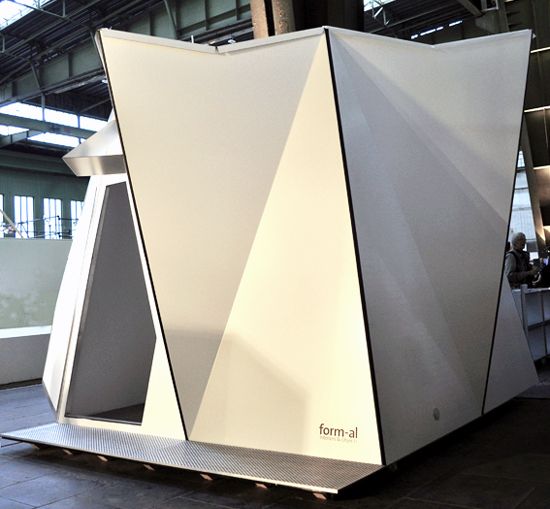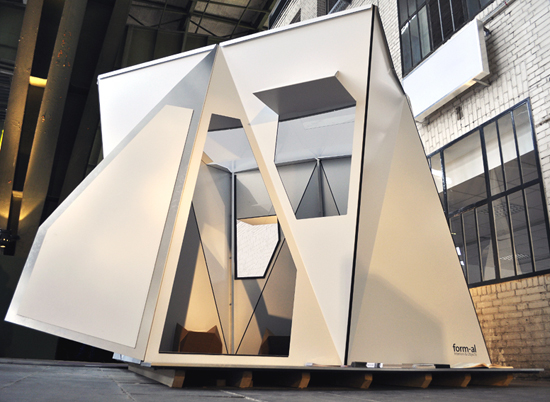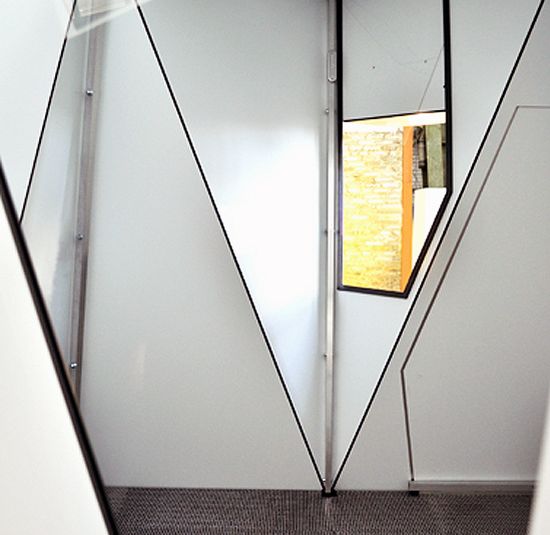 Via: Design Boom
Some more innovative shelter designs like the Fold flat shelter
1. Eco House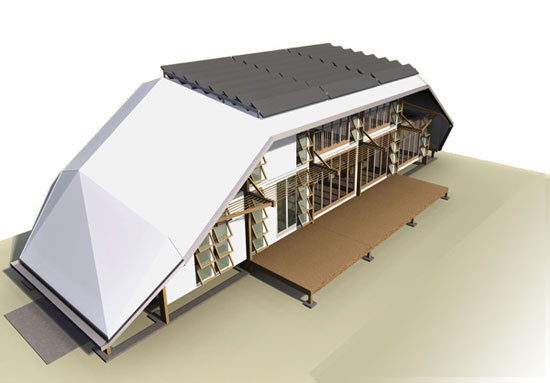 The winning entry at the future competition 2008 held by Australian Green, the "Eco House" by Lara Calder Architecture is a temporary shelter for suburban development in Western metropolitan Sydney that other than offering an instant refuge also helps in sustaining the environment by offering an alternative to resource-hungry low-cost project homes.
Finished with a high-tech fabric "fly" over six timber portals with pre-fabricated units suspended and configured to produce a flexible interior living environment, the Eco House also comes with PVC weatherproof roof, walls and floors, making the house more safe as well as durable.
This structure helps in generating power from a grid-connected electrical supply (using photovoltaic cells on the roof) and gas supply. In addition, it will also get hot water from a gas-boosted solar hot water storage cylinder on the roof. Furthermore, a precise setting of windows ensures cross ventilation and the necessary "relief valve" to combat over-heating in summer.
Apart from harnessing the solar energy, via roof-mounted solar panels, the Eco House also fulfills its water requirements (for laundering and exterior uses) from rainwater, through a barge/guttering system that direct the water to four concrete storage tanks, with a total capacity of approximately 30,000 liters, in the ground between the portal footings.
In case of an overflow from the rainwater tanks, users may direct the water to a neighborhood collection and reuse it for irrigating public areas. Moreover, it collects and revives wastewater from showers and washbasins in the fifth tank which you can use for toilet flushing. Simply sustainable! You may not ask for more than that from a temporary shelter.
Read More: Easy ways of using solar power at home
2. Bexhill Beach Shelter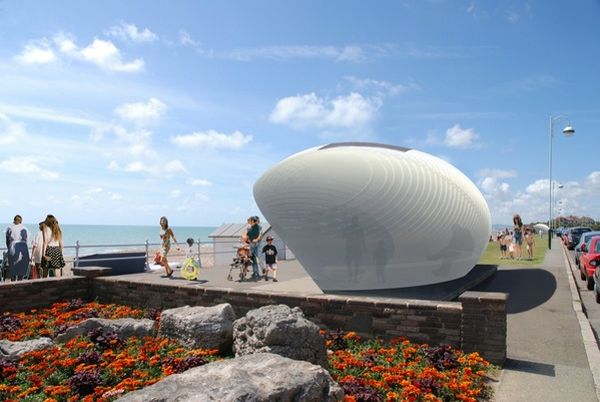 Beach area always beam with a lot of life and activities. With an aim to give it a touch of elegance and added meaning, Canadian designer Shaun Siu Chong has conceived the Bexhill Beach Shelter & Kiosk. The designer has specially crafted it for a design competition for beach shelters and kiosks at Bexhill, UK.
The designer fetched heavy inspiration from Shells in Poetics of Space by Gaston Bachelard. The outer facade has a wavy pattern and is translucent in nature. Both the shelters and the kiosk have geometrical crafting that makes it very eye-catching. When on a beach, the sight of a shell sends in thrill-chills. The designer has made good use of this fact and tried to inject a sense of happiness. Fiber reinforced polymer (FRP) composite has been coupled with a structural aluminum matrix to craft these shells.
The dainty design has LED lights, which make the structure sparkle like a star when dusk sets in. The solar-powered structure will come caked with a thin layer of solar panels. The illumination will make the minutest details of the subtle silhouette visible. It will lend an eye-catching appeal to enchant many. The use of solar energy not only makes it an eco-friendly creation that vows to protect our beautiful surroundings but also promises to will save precious resources and cut down on electricity bills.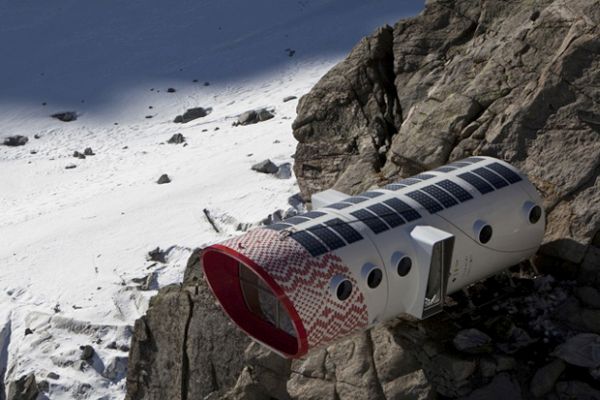 LEAP is a highly advanced and innovative mountain house that has been designed very futuristically. These are tube-shaped, sustainable designed houses that have a base shaped like that of a spaceship. The material used to construct the LEAP is similar to that used to make airplanes and sea-faring ships. The tiny solar powered pods are inclusive of essentials such as bunk beds, kitchen itineraries, toilet, living room etc.
3. Space Shuttle-Like Mountain Shelter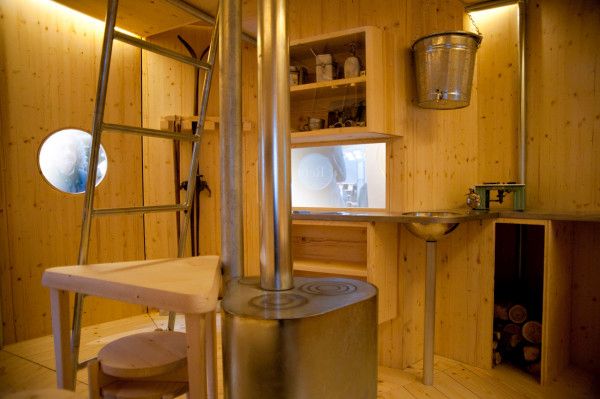 This is yet another futuristic mountain shelter designed inspired by the shape of a space ship and resembles a dodecahedron. The house contains an outer frame made with aluminum and is therefore extremely lightweight and easy to install and uninstall. The base of the house bears adaptable piles that help to keep the construction stable even on an unleveled ground surface. The interior is designed out of pinewood, which keeps the house warm and cozy. The house is designed to easily accommodate eight people at a time.
4. Eco-Temporary Refuge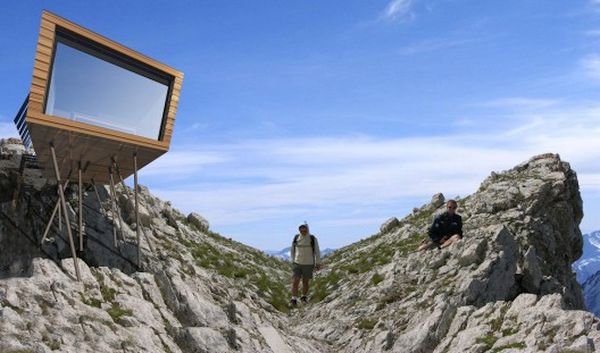 This is a sustainable prefabricated house specially designed for the mountains. Designed by Cimini Architettura, this amazing green home is entirely solar powered. Furthermore, it consists of an incredible snow melting system to provide its residents potable fresh water anytime. In addition, you can airlift this self-sustainable house to almost any location including snow clad hills and mountains.
5. Optimal Travelling Independent Space(OTIS)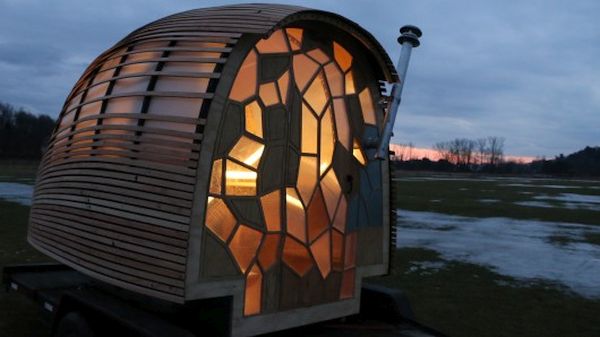 OTIS has been designed by a group of students from Vermont's Green Mountain College. It consists mainly of  wood and stained glass. This is a mini, pod shaped shelter that is extremely high end and which you can easily install at any location including mountains. The house consists of a rainwater collection system and a solar panel to utilize solar energy for various needs and a composting toilet.
6. Solar Powered Transit Shelter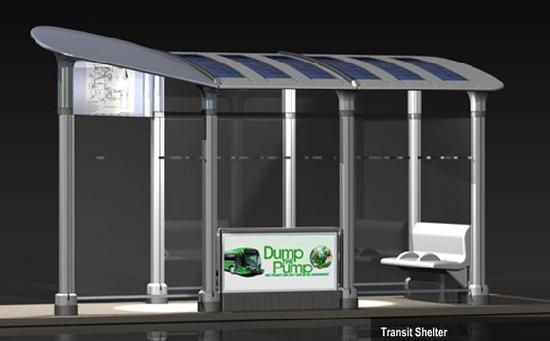 Coming from the house of Arato Designs, the "Transit Shelter" is a simple yet spacious bus stop that presents extra high ceiling and wide entry to allow 360° view of the surroundings. Featuring a steel structure wrapped wholly in plastic, the shelter is not only robust but also provides extra safety during electric storms.
The length of the shelter can be increased or decreased, for that matter, by adding or removing 5' x 5' modules according to the number of occupants. Moreover, the bus shelter integrates solar panels on its roof to illuminate the interior as well as large overhead information panels with sustainable energy, while the exterior allows space for advertising.