Nowadays, since a large, part of our population is living in cities, people rarely get time for each other. As long as a person is young, it is easy to get by. However, when you are either elderly or disabled, it is very tough to get by through the day. In earlier times, for their mobility, the elderly mostly relied on others. However, this isn't the case now. Many of them are forced to be self-reliant. Nevertheless, with the advancement of technology, this isn't something that they need to worry about. Not only it is easy for the elderly to become health conscious, but there are also so many smart gadgets and devices like Gerol in the market, that serve their particular mobility needs. These not only help them become self-dependent but increase their safety as well.  Following are some well-designed walkers for elderly.
Read More: Top lift chairs designed for the senior citizens
Gerol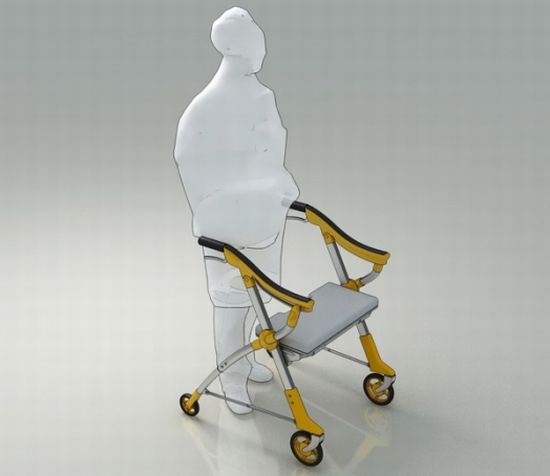 Intended toward elderly people, the "Gerol" by Indian designer Inato Sema is a rollator or walker. It seats the user with ease when he/she gets tired after an exhausted stroll. Ideal for both indoors and outdoors, the multifunctional rollator can be used over a toilet, as it folds up its seat to allow easy access. The Gerol also provide support to the user when using a washbasin. It comes with an active braking system, which keeps it stable on the floor. In addition, the new walker folds down to slip underneath the bed for easy storage or in the trunk of your car for easy transportation.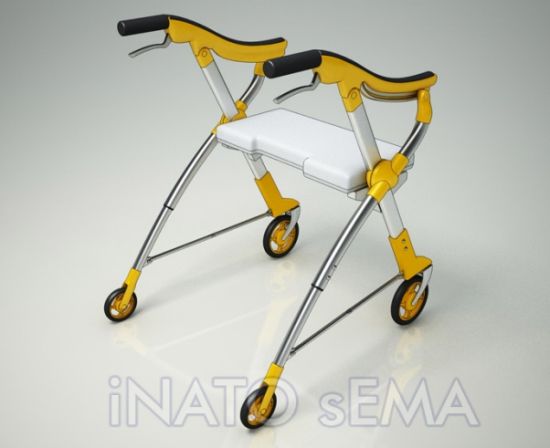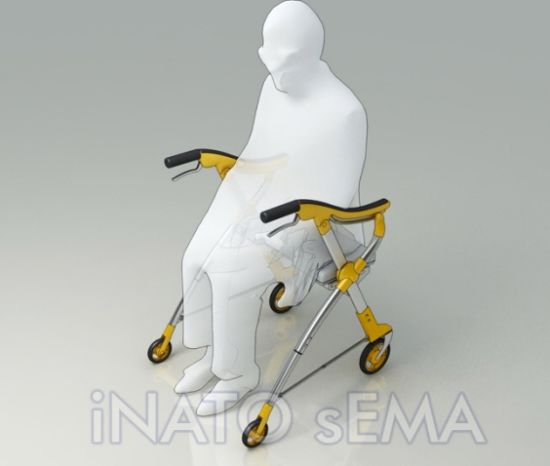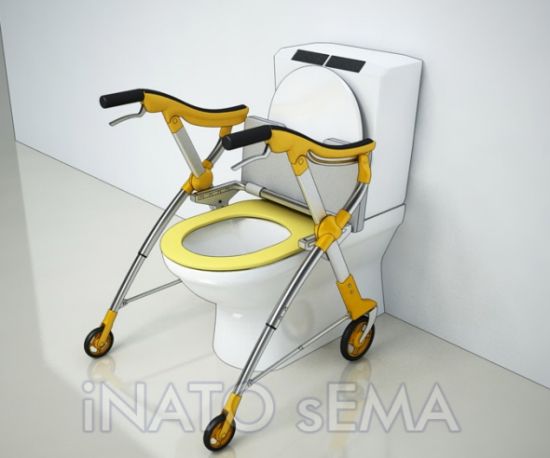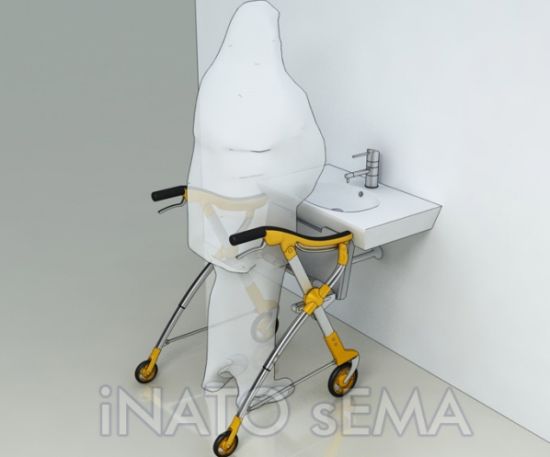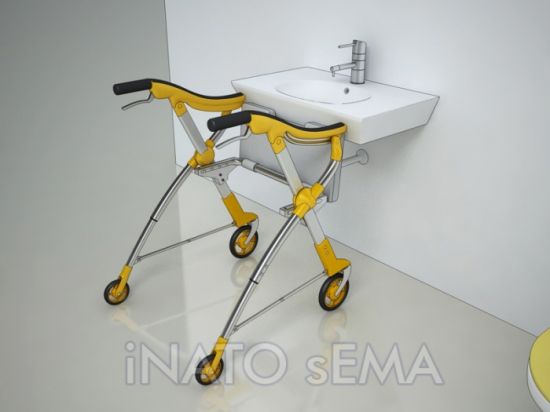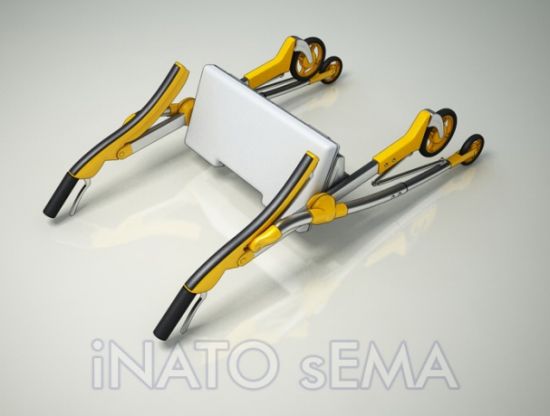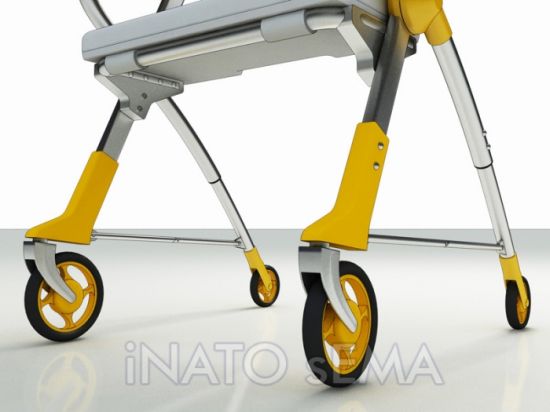 [Cheers Inato]
Some more mobility aids for the elderly like Gerol
1. Walk and Roll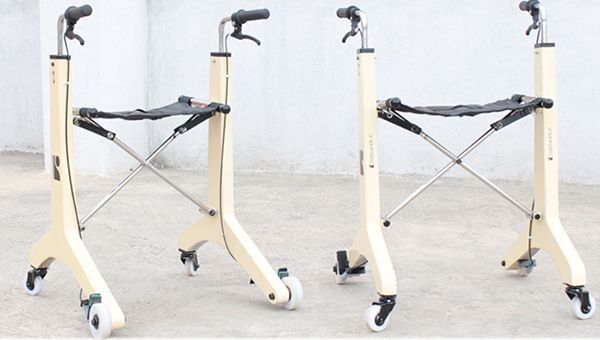 Parasuraman Kannan from India has designed a walker for elderly people or those with physical disabilities. Elderly people can enjoy walking as this walker consists of basic functions required by them. The intelligent design has roller walkers and is easily foldable that helps in easy transition. It has some useful features like comfortable handlebars, portable seat and adjustable height that promote proper posture.
2. Stryker Walker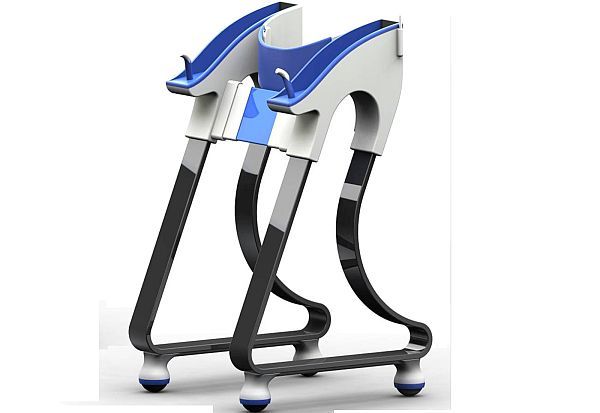 To avoid major problem of falling of elders Jeffrey Michalak came up with a concept that can be easily implemented. The walker ensures right posture of a person and the combination of abdominal, arm support prevents from falling. It has brakes, full width and height adjustability for anyone using it. It can be used by elders or in hospitals who are suffering from physical disability.
3. Ez-Roller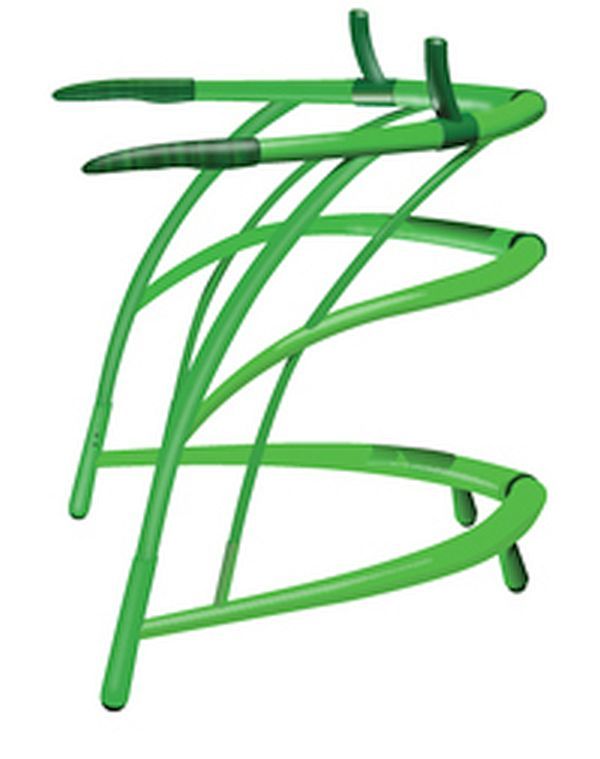 Ez-roller is a concept by Nicholas Giesinger who have redesign the ordinary elderly walker. The design offers a variety of benefits to the user and the appearance is very different from other walker concepts.
4. Hugo folding walker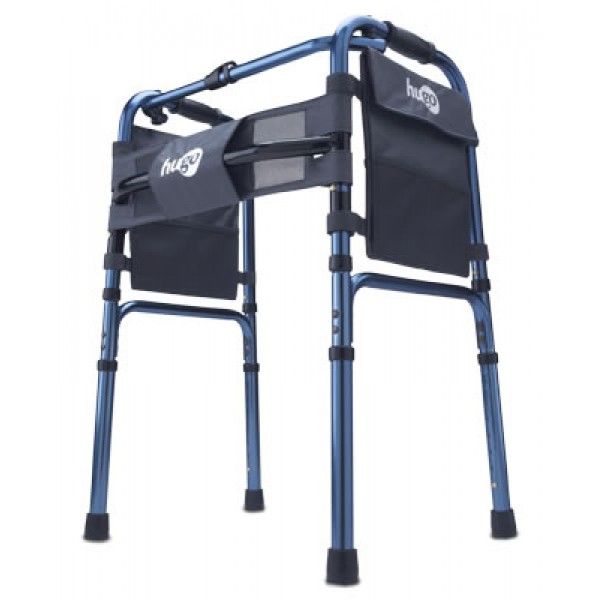 This walker has the capacity to bear 300-pound weight and comes with height adjustments. It has some extra compartments like a pouch, side pouches and a cup holder. Hugo folding walker can be folded very easily. It is useful to maintain balance, prevents from falling, and gives easy mobility.
5. Nova Cruiser Deluxe 4202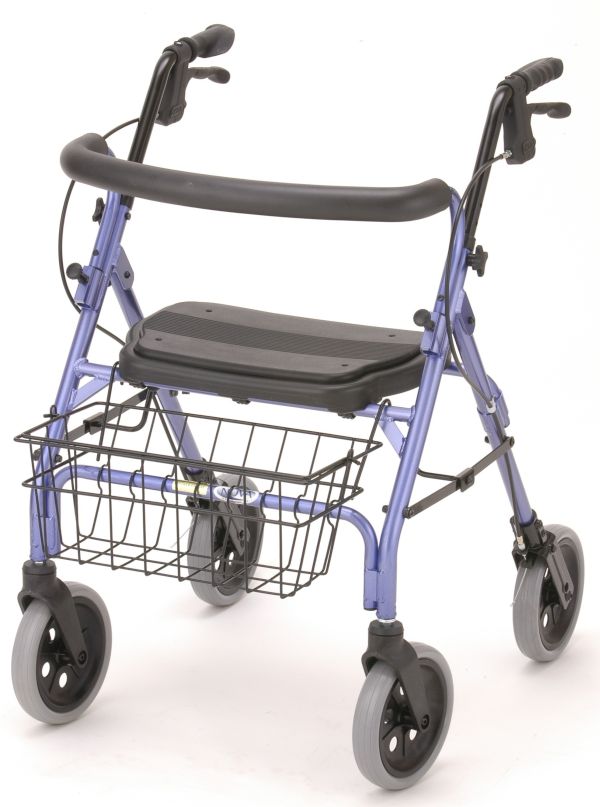 This rollator has an 8-inch wheel that rolls even over snow, grass and gravel. It can easily fit through 24-inch doorways. Furthermore, it has a comfortable and relaxing seat with addition to padded and curved backrest. Nova cruiser deluxe has brakes and a removable storage basket.
All their lives they have given us support and love. Now this is our time to hold their hand with care and fondness. The advanced technology has made our work easy and convenient. These highly improvised walker concepts have made the elder people more independent. There are different walkers for every purpose and ensure safety of elders.
6. Boomer mobility assist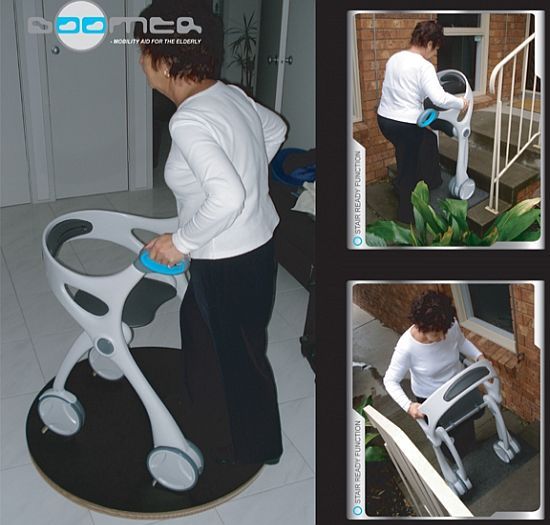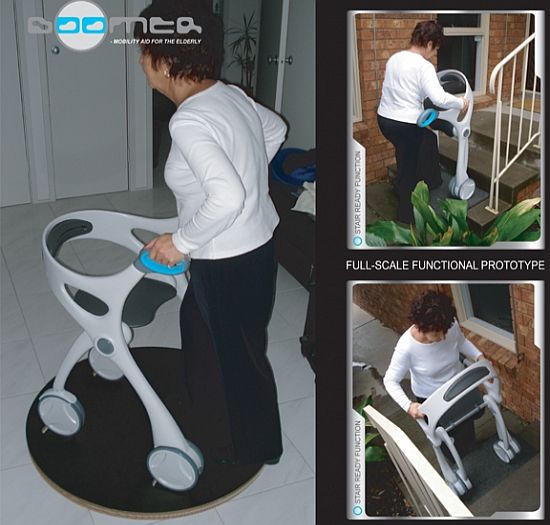 Breaking away from the utilitarian forms and hospital aesthetic, designer Daniel Molloy from Monash University has come up with an innovative mobility aid for the elderly. It will help them moving safely not just on the floor but stairs as well. Dubbed "Boomer," the mobility aid features easy height adjustment to accommodate different users.
In addition, it also has a user-friendly push-button release that collapses the walker for easy storage and transportation. What separates the Boomer from the rest is its stair-ready function, transforming the ordinary walker into a device that allows safe movement while climbing and getting down the stairs.
The chair also presents a padded seat and backrest, ensuring optimum comfort for the users. While the zipper and fold out nylon storage bag attached to the backrest provides enough space for personal belongings. Moreover, its sleek organic form, achieved by a manufacturing process called gas-assisted injection molding. This allows a higher stiffness-to-weight ratio, which remarkably reduces the weight of the Boomer.
7. Miracle mobility vehicle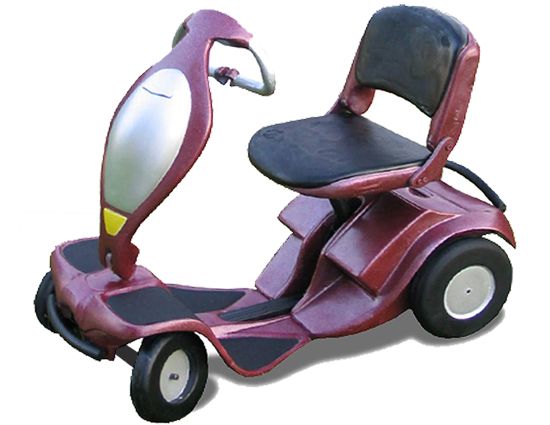 Mobility becomes a grave problem for the elderly as well as physically challenged, as they have to rely on others for their basic needs. Commissioned by Tzora Company, the "Miracle" by Israeli designer Ayelet Kit is a four-wheeled vehicle/scooter that allows mobility to the elderly and physically disabled. Running on a rechargeable battery, the electric vehicle integrates a rotating chair, so the user could get on and off the vehicle with minimum fuss. When not in use, the Miracle folds flat for easy storage and transportation, as it can easily fit the trunk of your car.
8. ICIO Mobility vehicle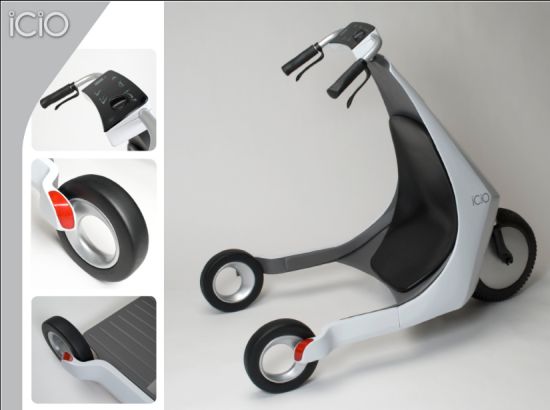 As we move toward the dusk of our existence, life with physical strength reducing day by day becomes calm and immobile, if not entirely stagnant. Presenting a solution to help facilitate elderly people's movement, designer Malin Grummas has designed a personal transporter, as an alternative to the walker/scooter, for seniors that enables more independence and opportunity for mobility and active lifestyles. The ICIO, as the Swedish designer calls her personal transporter, not only offers a mobile aid to the senior citizens, taking them right into the stores and other public places, but also helps them in keeping fit with routine strolls. With the ICIO, the elderly can continue to be physically, mentally and socially active, increasing their mobility, independence and quality of life for a longer period.
9. Elecktroscooter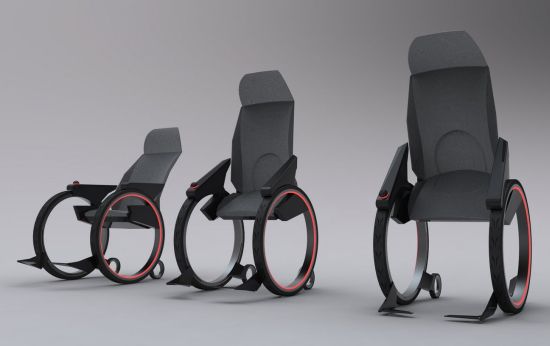 With each passing day, life usually gets more immobile for the elderly, as they have to rely on others for basic needs. Adding mobility to the life of seniors, designer Patrick Leyendecker has come up with an electric scooter concept that works like a wheelchair to allow easy entry and exit for the user. Hailed as "Elektroscooter," the mobility aid moves on tires with ball bearings to be controlled by a ball on the armrest. Running on motors/engines, located on the sides of the seat, powered by a rechargeable battery, the electric wheelchair connects the rear tires and the footrests to guide rails with the rim of the front wheels, while changing the angle of the seat and footrests for easy maneuverability. Featuring stationary rims, the mobility device controls its speed like a tracked vehicle.