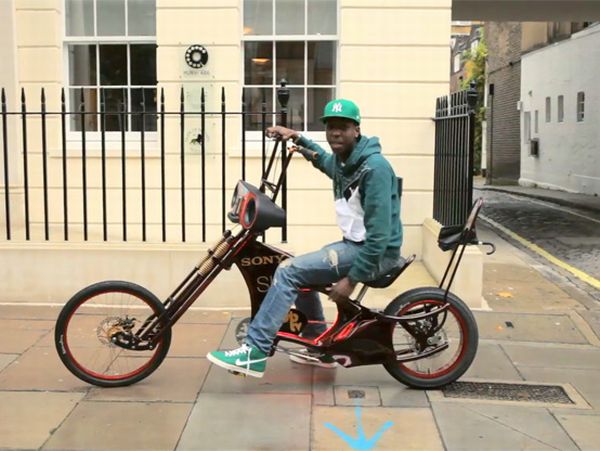 YouTube youth sensation SBTV has collaborated with bike fabrication/customization specialists Nick Gale Custom Cycles to promote the new Sony SK-8 iPod dock, which the electronics giant claims is the loudest dock in the market. Aiming primarily at the young music fans in the cities, Sony got the online youth entertainment channel to document the making of the custom bike that mimics the trend already in vogue with bike riding kids in Trinidad.
The Schwinn Stingray Spoiler used in this mod features a black frame with red detail and standard equipment on the chopper includes factory-fitted springer front suspension forks, disc brakes on the front and rear, a custom stitched chrome riveted saddle, and Twisted Ape Hanger handle bars. The bike was slightly modded to house the dock and custom paintjob from Image Design Custom stamped it with the Sony signature.
Jamal Edwards (the talent behind SBTV) took it around to the hottest new rappers and artists on the UK music scene and the bike has been road-tested by the likes of BoB, Griminal, Tinchy Strider, and Flo Rida. The video uploaded to SBTV's YouTube channel received over 28,000 hits with an equal number of hits for the bike itself.
Via: FoamAgency