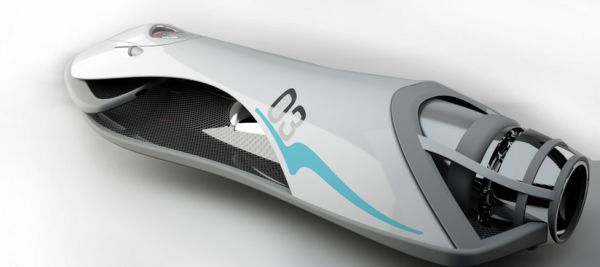 Are you a water sports lover who likes exploring things both above and under water? Then the vehicle in question is going to turn you insane. To make water-based activities more thrilling, here is "Seabob" by Romy Martin!
The capsule-shaped, luxury concept vehicle has a base that works like a jet-ski. It will smoothly slide on water for an exhilarating experience. Seabob has been crafted in a way to emerge as a winner even underwater, sending in the necessary adrenaline rush. But, both the underwater and slithering skills have to be modified for an effective motor usage. The water vehicle will fetch all the power from a rechargeable battery. This will make it a silent, power-packed devil that will zoom straight into your hearts.
The product can be tailored in terms of designing and forceful outline as per a user's requirements. The motorized water vehicle has been crafted in an ingenious way, which will make its organic silhouette to be blended with the environment in no time. Seabob is a refreshing concept and is bound to leave beach lovers impressed and excited. It will come coated with sumptuousness, which will make exploring deep waters realy worth!
Via: Romymartin