"Mirror, Mirror on the wall, who is the prettiest of us all?" The sentence that reminds us of the lives of Snow White and the seven dwarfs, would now be dictated by every child with a twist. The story listening experience has been completely revolutionized by Romy Van Dan Broek.
The hi-tech story telling mirror is a remarkable design. It is power packed with touch technology. The benchmark design allows the children to be completely engrossed in the story by being surrounded by the story elements. The hi-tech touch video displaying mirror design incorporates motion sensing software.
This shapes up the story listener or the child as the protagonist of the story. The design also calls for tremendous attention with the story proceeding only when the child playing the role of the protagonist completes the task. For instance, if a scene requires plucking off of apples from a tree, the child or the story listener is prompted to perform the function with the touch technology. Once the task is done, the story is narrated further .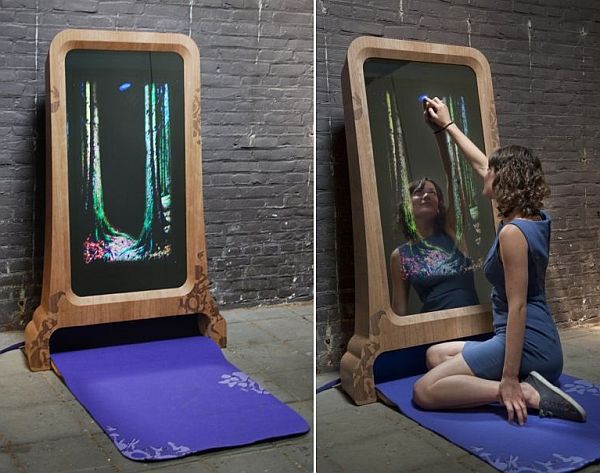 The mirror is framed in a wooden cask which has been lend a fairy tale feel with fawn colored petal design embroidered at the left and the right bottom corners. The design is complete in a fairy tale feel with an inviting purple colored trendy carpet. The mirror design takes care of the tender age of sharing and caring, and allows two children to play together in the story. With the interesting technical twist to the story telling experience, the grandma story telling days are sure to fade away!
Via: Romydesign/ Mocoloco