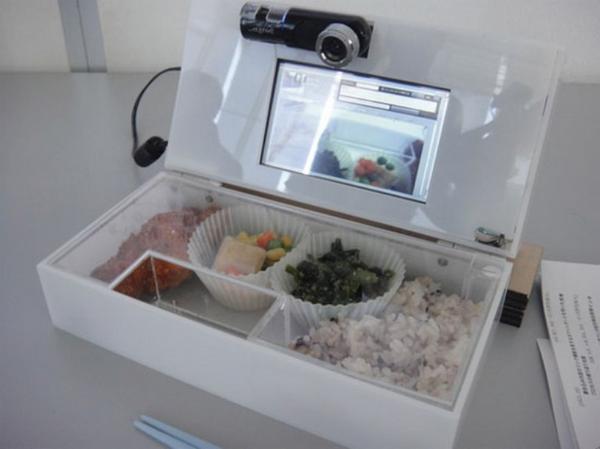 We have heard about touchscreen-based mobile phones, ATM machines and many other electronic appliances, but hearing about a lunchbox that has a communication support system is something very innovative and incredible. This innovation, dubbed as LunchCommunicator, is being worked on by a research group at Ochanomizu University in Japan. The lunchbox intends at supporting communication systems within families.
The video chat lunchbox has a small touchscreen PC, camera, microphone and speaker built in. The content functions automatically when the lunchbox is opened. This techno lunchbox will bridge emotional and psychological aspects associated between the one who prepared the lunch and the one who enjoys the food. We all know that equally important to the taste of the food is the feeling with which that is packed; and one can express his/her gratefulness toward the cook through this lunchbox.
Similarly the cook can also share affection with which the lunch is cooked and packed. It will capture the image while the lunch was being cooked and packed and reflect after the lunchbox is being opened for eating. Likewise the joy of tasty food and affectionate feeling can also be shared (captured) while eating and can be conveyed once the box reaches home and opened for washing.
The researchers are constantly trying to improve the system by making it smaller and more convenient. The camera within can be embedded to make it easier to carry. They are also planning to add automatic video editing aspects so that the user can transmit the intended image and feelings.
Via: Dvice