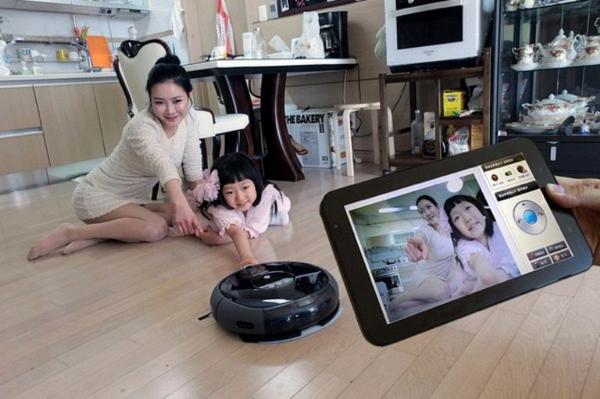 Modern CCTV or surveillance cameras cannot move in every direction. That's why Samsung created a remote-controlled robot vacuum cleaner camera which can be controlled from your PC, tablet or smartphone from anywhere in the world. This vacuum cleaner's video camera is connected to your PC, tablet or smartphone through Wi-Fi. The vacuum surveillance camera consists of a "TangoView" (VC-RL87W) home monitoring system, a microphone, external lighting and it operates at 48dB.
The TangoView home surveillance camera costs around $711. It functions both as vacuum cleaner and home surveillance camera. The camera is circular in shape and has black/gray color. It has four buttons and a touch display clock on its top.
By using this surveillance vacuum cleaner camera, you can control your home and ensure its safety when you are away from it. Anyone who tries to break into your home won't be able to identify that this vacuum cleaner is a home surveillance camera because it smartly hides the tiny camera in it.
Available in Korea with a KRW799,000 (about $711) price tag!
Via: Engadget