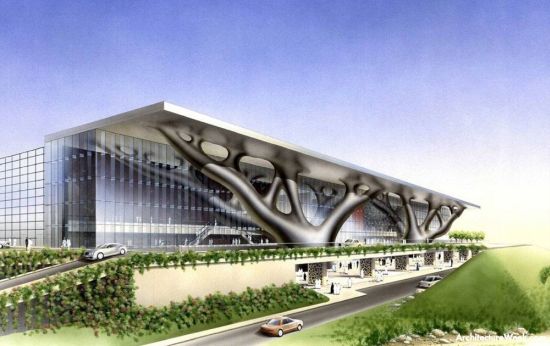 The outskirts of Doha, Qatar are witnessing the growth of phenomenal trees; only these support the façade of an architectural extravaganza. The building that's the subject matter of this bit is the Education City Convention Center designed by Arata Isozaki. The main attraction of this building will without any doubt be its entrance. Two massive 250-meter-long doubly curved steel trees support the giant structure and greet the visitors. And these are no ordinary trees, but the ones mentioned in the Quran as a symbol of the knowledge of the divine: the Sidra Trees. It is but natural that the structure that's supposed to house the headquarters of the Qatar Foundation and branches of numerous universities uses the Sidra Trees – symbol of haven for scholars – as support pillars.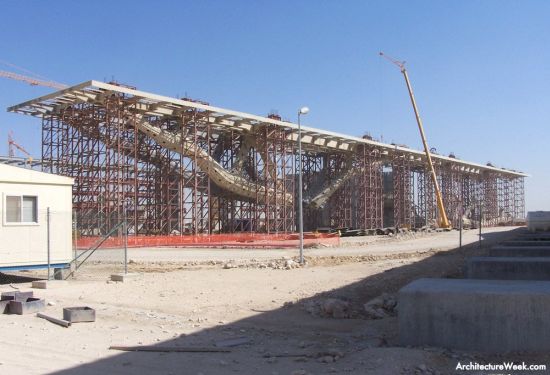 The international engineering firm Buro Happold was called upon to design and engineer the sidra tree project for the entrance to the convention center. Arata Isozaki used computer generated models to optimize the lowest-weight structure that could support the roof. Sidra tree structure was a result of an optimization program. The conception of such a size and complexity was only the beginning. The design team faced the Herculean task of transforming the architectural vision into technical realities. Buro Happold's SMART (Software Modeling Analysis Research Technologies) team was summoned and didn't disappoint. The structure that they came up with has a dual layout: an outer curved complex form and underneath a structural core of octagonal cubes. You can read about how these mega structural entrances were designed here.
So much for the Sidra entrance, the convention center is no mean feat either. The Doha National Convention centre will be the largest convention centre in the Middle East and will have a 2,500 seat theater, several exhibition halls and banqueting facilities under its roof, all in addition to the educational facilities. October 2008 is the completion date set for the project and once done it will be the spectacle to behold in this nook of the world. Till that head there and you can watch the trees being engineered.
Via: Architectureweek