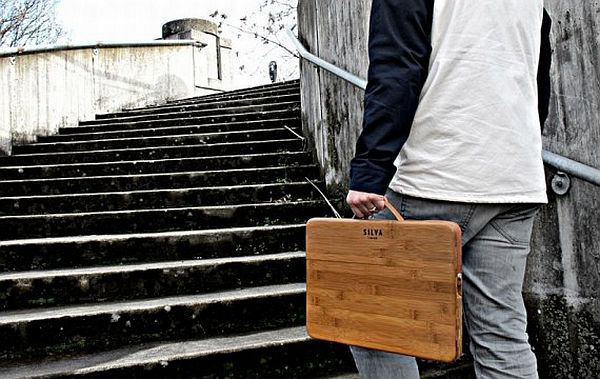 Laptop cases have rarely seen any innovation, if at all. Till now the maximum innovation that we have seen is that the black color being replaced by some other colors for the cases. Not anymore! Silva Limited has come up with an innovative case for your MacBook & MacBook Pro – made completely out of bamboo.

These custom-made bamboo cases are completely handcrafted, and come with a full hide strap to complete the look of a briefcase. And since bamboo is one of the fastest growing plants, it is completely eco-friendly. The cases are built from a solid sheet of bamboo, which is cut to size with a CNC machine, and then they are sanded, glued and finished all by hand. To give it a classy look, tung oil is rubbed on the bamboo to make the grains stand out, and it is finished off with a coating of polyurethane to harden the bamboo.
The cases are unluckily breakable, but then it is a wood product. And even though the cases are solid wood, they weigh very less. And to protect the computer, the inside of the case is lined with wool felt.
The creator of these cases says:
When I was around 10 years old, I started to learn how to work with wood, with the help of my father. I was continually exposed to how wood works and what I could make with it. That's pretty much how I developed this love of woodworking.

Personally, I love Apple products. As a new business venture, I decided to take some time and combine the two things I enjoy, wood & Apple products. So I started to work on a project that not only protects Apple products but gives them a "green" feel as well. This led me to create these custom bamboo cases for Apple Macbooks

Via: Silva