We have to spend a chunky portion of time sitting around the coffee table. With friends over to our place or chill-out sessions, often the coffee table becomes our dining table with take-out packets and pizza boxes spread all over. Since these tables serve more than one purposes, you should opt for multifunctional designs. If you are a true nerd, you want your coffee table from anything to pinball machine to gadget operator. Well, it might have seemed like a dream in the past, but no more. Following is a list of nice and quirky high-tech coffee tables for the super-geeks. These would make your strangest wishes true. 
Six high-tech coffee table designs for geek
1. Rosie interactive multi-media coffee table: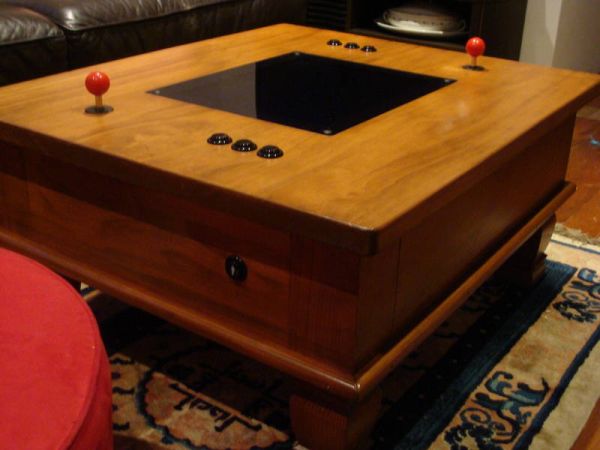 This one is the ultimate geeky coffee table which will give you pleasure throughout the day and anytime you want. There is an Apple computer fitted right in the middle and the screen is big enough for 5 people. Surround it and play games all day long. You can put soda cans around or pizza plates. The special coffee table is spill proof which means that even if you spill soda or sauce nothing will happen to your dazzling and amazing Rosie. The high price makes it a fantasy item for budding geeks. It will cost you around $35,000.
2. Gaming Coffee Table:
It is made for hardcore gaming with a 19 inch LCD and fast Windows PC. It is preloaded with cult favorites and will cost you $6600.
3. Microsoft Surface: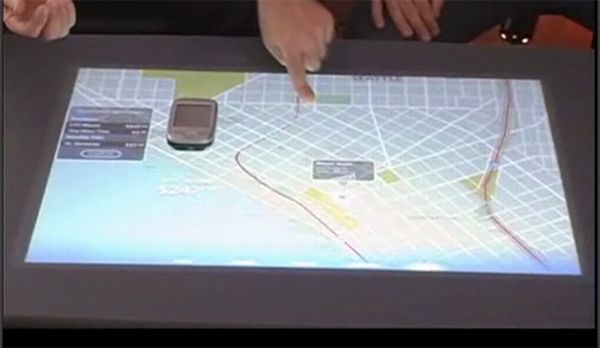 This amazing coffee table by Microsoft costs only $10,000 and will surely enhance the prestige of your living room. Its 30 inch surface can detect multiple touches. You can paint, play or download PDF files with Wi-Fi connectivity.
4. iTable: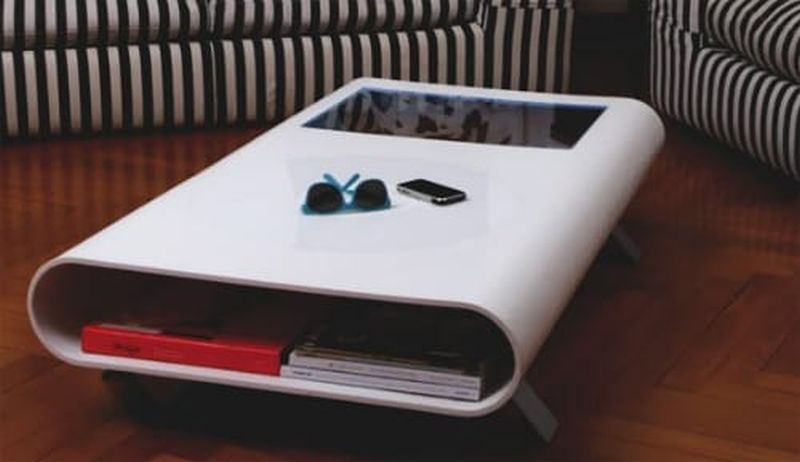 Image Source : furniturefashion.com
This table looks similar to your precious iPods and if your enthusiasm about Apple gizmos knows no bound then you must get one of these iTables.
5. Retro Arcade Machine Coffee Table:
This table is for the gaming geeks. It is brim full of classic favorites like Donkey Kong, 4D Warriors, Pac man, Phoenix, Frogger and many more. There is a joystick that helps you move the games and adds the extra zing. The enthusiasm of your nerdy friends won't be able to break this one because it is made of shatterproof glass.
6. Color changing coffee table: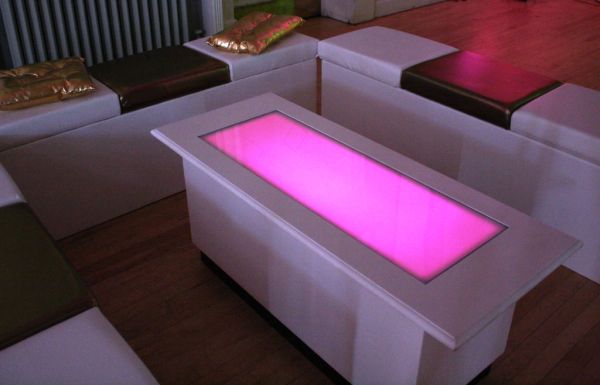 This one is a geek favorite because it looks different each time you glance at it, turning from soft green to rose.
Coffee tables are all about good time and chats. They can make great memories for you and give definition to your room. The boring and outdated teak coffee tables need a serious and major makeover and only one of these ultimate geeky coffee tables can do that.
We spoke to a representative from Avisio, and they said, " Another high-tech coffee table design for geeks is the spillproof coffee table computer mod. If you're constantly always worried about spilling coffee on your computer and not being able to clean it properly, this table is for you. The table ensures that your computer stays safe and dry."
More furniture ideas for geeks
1. Lavoro coffee table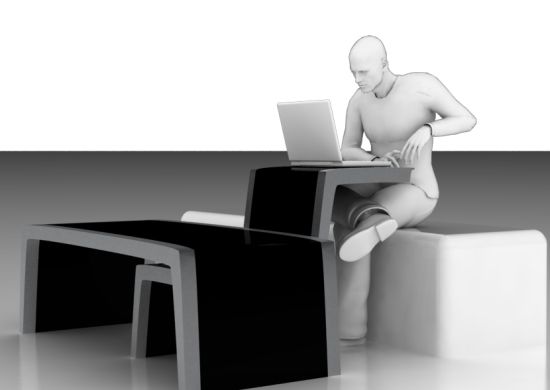 Coffee tables don't offer an ergonomic workspace too often. And why should they, for they are simply meant to chill out with family and friends. However, the Lavoro by designer Jon Zayat is a coffee table with a difference that other than serving beverages to your guests also becomes a work surface at an appropriate height. Made of IRT recycled plastic, which can be over-molded to have a solid black finish, the coffee table features aluminum edging, making it a stylish furniture unit for contemporary living spaces. With the Lavoro, now you would be able to switch over from your leisure space to workspace and back within no time.
2. Futuristic Dock Chair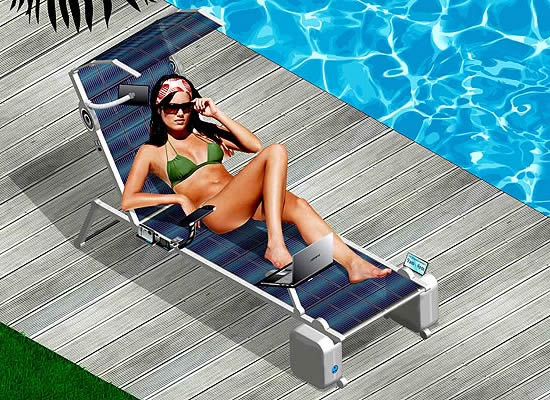 These days it's not only geeks who intend to carry paraphernalia of doodads along even while relaxing on a beach or by the pool side. Non-nerdy tribes too are infected with this trend! Holidaying and relaxing no longer suggests bidding adieu to your must-have gizmos. And to cater to such clientele, experts at computer retailer PC World have come up with the Tech Chair concept. Though it may look like an unfussy lounger, it proves to be just the other way round. To start with, its features an automatic sunshade that moves with the sun to protect you from the harshness of sunrays while it feeds on the same energy to juice up all your gadgets.
Befitted with techie stuff like speakers, WI-FI or Bluetooth connectivity and sockets to plug in your MP3s and other devices, it is the best rocking yet relaxing place to laze on.
Moreover you can plug in your camera to instantly download your holiday snaps. It caters to the gamers too as there is a docking station for game consoles.
And for bloggers like me, who want to keep a check on what's hot in the blogoshpere, at every time of the day, there is a laptop table that slides along the chair. Just a GPS text reservation system allows you to secure this eco-friendly yet high-tech lounger for relaxing in geek style.
3. Hi-Tech Gadget Chair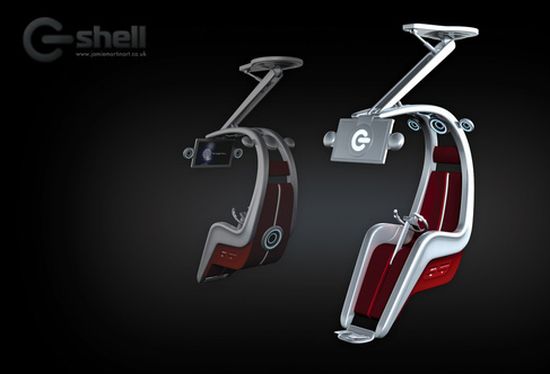 Over the period, there has been a complete shift in the primary function of a chair, i.e. seating the user in comfort. Expanding the function of common household furniture, British designer Jamie Martin has come up with a hi-tech seat dubbed the "Gadget Chair" that integrating game consoles, computer, TV/PVR, video & music playback and back massager in a single unit is sure to enhance the experience of the user. Incorporating miniature-cooling fans, heating elements and an adjustable lumbar support beneath the red exterior, the leather-upholstered chair also presents an ergonomic design to place you comfortably during those extended gaming sessions.
Placing an electronically adjustable 16:9 OLED screen upfront to work as a viewing platform for movies, gaming and internet access, the geeky chair too adds a number of multi-colored LED lights to project different tones on your surrounding environment, moving you in a zone far away from the real world. Surrounded by multi-directional illuminated speakers and a large sub-woofer, the user literally moves into the virtual world. The adjustable chair provides the user with an automatically retracting gaming wheel/joystick, where they can mount their keyboard/trackpad combo as well.
The ceiling-mounted motion technology allows both vertical and rotational movement, thanks to the hydraulic pistons. The chair provides a limited rotational motion to enhance the turns through the corners, allowing an altogether new gaming experience to the users. If this is not enough, it also connects multiple HD Digital TV tuners to the Mac/PC to utilize it as a 1TB high capacity PVR.
Final Words
The old and drab coffee table is not helpful in setting up the party mood or creating a funky ambiance  Accordingly, coffee table manufacturers come up with innovative designs to make your coffee table parties more enjoyable than they were ever before. Technologically enabled coffee tables can add the spice your living or drawing room needs to attract your buddies. While buying a coffee table, you should follow your instinct and opt for the one that comes close to your persona and not something that is just conventional.