Growing population along with rapidly vanishing resources have triggered the alarm for flexible architectural designs that will not just accommodate a huge number of people but will also have to fulfill all the basic requirements, including water, food and energy. 'Sky Village,' a sustainable structure to be located in Roskildevej, is a similar futuristic structure that is based on the flexible 'pixel' design, allowing the designers to reshuffle the pixels (60m2 each) and modify the organization of the structure, according to the changing needs of human beings and the environment. Offering a huge area of 21,688 square meters, the 116-meter tall Sky Village will allocate 970m2 area for retail, 15,800m2 for offices, 3,650m2 for housing and 2,000m2 for hotel, together with a basement of 13,600m2 area for parking and storage.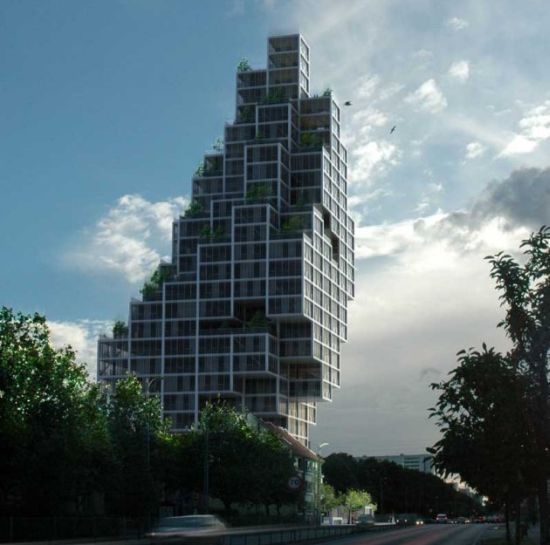 Design Status:
'Sky Village' is the winning entry at the Competition for New Building, Copenhagen that will accommodate numerous apartments, a hotel, retail and offices, apart from a public park and a plaza.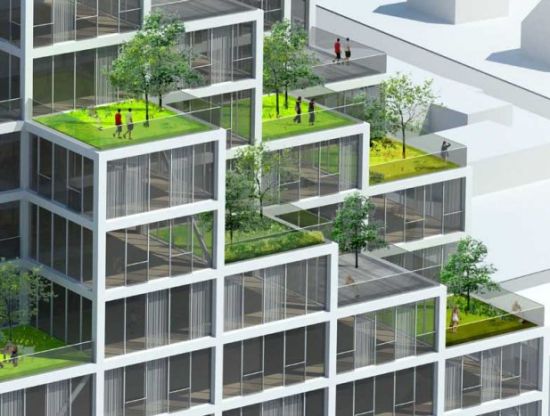 Usability:
Apart from flexibility or adaptation, the Sky Village will incorporate latest technologies to accommodate the Tower according to the progressive Danish environmental standards. Moreover, the eco-friendly building will use recycled concrete in the foundation, together with various energy-producing units on the front that possibly will fulfill most of the energy requirements of the Village.
Via: Contemporist
Designer Firm:
MVRDV and ADEPT Copenhagen, Denmark.