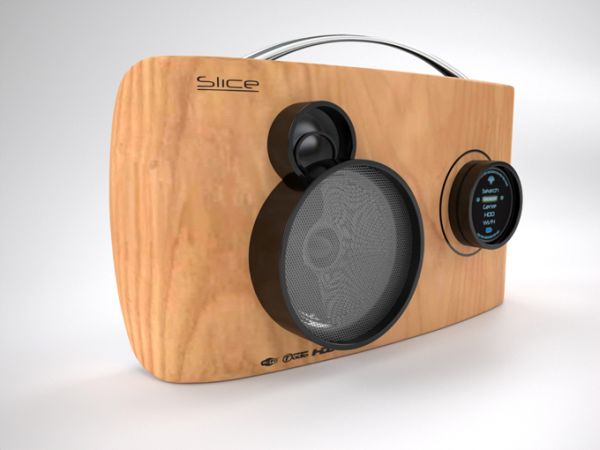 Reviving the glorious time of radio is Sam Aylott with the Slice DAB Radio. The designer has crafted a sophisticated product, which is a fine blend of traditional and modern. It comes clubbed with latest technology that makes the radio all the more tasteful.
The facade of this attention-grabbing product has been made in an elegant way from laminated wood. This has been combined with a stainless steel handle that gives it a rich appearance. The outer look is further enhanced by the presence of a round speaker and knob. Images and text will be displayed on this knob to give it a streak of modernity.
The aesthetically appealing radio's wooden construction makes sure that the speaker housing remains vibration free. It has been crafted in an ingenious way, which will squeeze maximum performance from the 4 inch driver. This driver has been further linked to a soft dome tweeter.
Slice is a hi-fi unit that will be a reminiscent of the retro era, which was ruled by such designs. The vintage construction has been sprinkled with novelty in terms of technology, which makes it quite a steal. Slice DAB radio tries to revive simplicity without compromising with quality. So, enjoy your favorite radio shows and slip into the magic of bygone era.
Via: Samaylottdesign