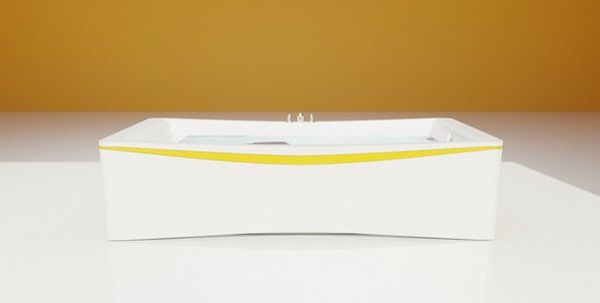 A home is never complete without an ideal bathing space to provide you not just a luxurious dip but a relaxation therapy. Ripple is the latest necessity for your home. Ripple is a luxury bath tub designed ergonomically bearing the comfort of you bathing experience and the feasibility for hassle-free cleaning.
The unique designing of the Ripple bath tub is based on the water ripple; the bath tub is designed such that the savvy curve of the ripple is formulated into the bath by designing the same ripple curve on the lower and upper edges. Hence, it not just maximizes your bathing pleasure but also ensures that cleaning the Ripple is a less cumbersome chore.
The visual delight provided by this exceptional ripple-centric design is mesmeric. The outer rim of this divine bath tub can be personalized giving it a blissful touch as it blends along with you appealing bathroom interiors, available in polymer, aluminum or wood. Slipping into the Ripple is tempting and rejuvenating, it's just what the doctor ordered for you!
Via: Behance