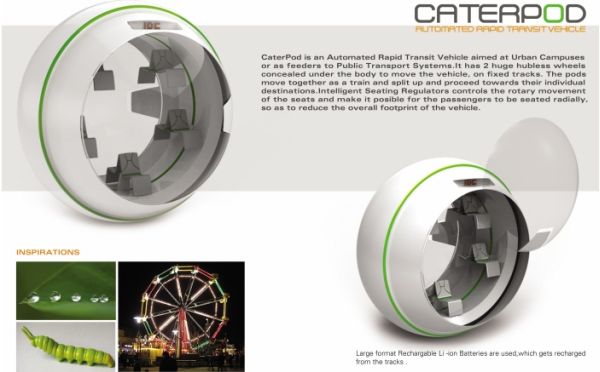 Created for design competition Interior Motives 2011, the CaterPod is an innovative new concept that re-imagines mass transport for college and industrial campuses as well as existing subsidiary feeder systems for mainstream public transport. Conceptualized by IIT Bombay-student Bimal Rajappan, the automated rapid transit vehicle is composed of two massive hubless wheels that are hidden under the main structure and allow the vehicle to mobilize over fixed tracks.
The pods move together, like a metro train, along a preset track and then split and move towards individual destinations. Since passengers are seated radially, the design serves a greater number of people than a conventional train, metro, or bus would. Intelligent seating regulators control the rotary movement of the seats and the pods run on large format Li-ion batteries that recharge via induction from the tracks and that further reduces the overall footprint of the vehicle.
On the inside, specifically designed seating ensures optimum passenger comfort. Integrated seat frame and back panels made out of weight saving thermoplastics allow the seats to be very thin yet sturdy. Contoured in the shape of the human form, the intelligent seats estimate the weight of the passengers and adjust accordingly. The green strip running through the seats allow the seats to be heated and cooled while smart textiles absorb sweat to make the journey comfortable for passengers.
The seats are hinged onto the rotating green strip in such a way that the seats remain vertical even during rotaton and preset intelligent seat regulators move the seat to the next higher level when passengers deboard and let the next set of vacant seats to be positioned at the boarding level for incoming passengers. The large glass doors on either side swing open so passengers can get on board from either side.
Each pod has a display showing its final destination so that passengers can get on the pod that takes them where they have to go. Once the pods arrive at a station for a particular destination, the pods set to go there detach and move independently so that passengers don't have to get off the train and seek alternative modes of transportation to move about in a location where the larger public transport system doesn't go. This makes the CaterPod an ideal low-impact, yet public-friendly transportation system for the future.
Via Coroflot