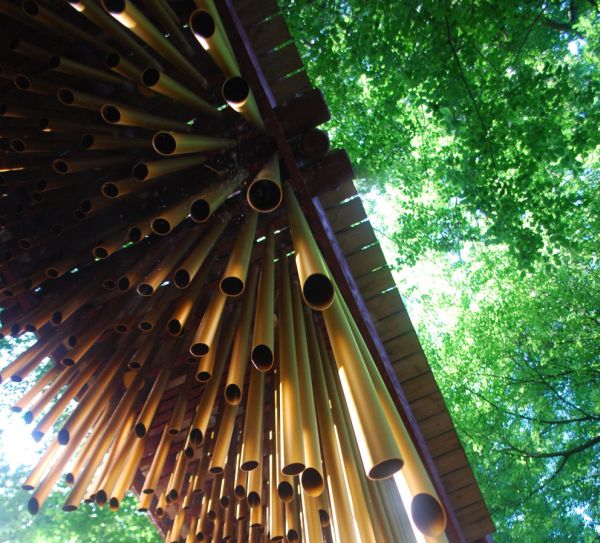 One of the most popular outdoor sculpture exhibitions in the world 'Sculpture by the Sea' in Aarhus, Denmark, has a rather interesting entry this year- a kinetic sculpture by the name of 'Chimecco'. The sculpture is basically a wind chime only on a massive scale. Anyone who's had chimes would tell you they do wonders with the slightest breeze. One can only imagine the kind of sound that would result from this enormous set especially since it's hung on a bridge by the sea.
Created by Mark Nixon, the piece features gold anodized aluminum pipes that are 60,050 mm in diameter and range from 120 mm up to 3,750 mm in length. The chimes are attached to the bridge with the help of "interactive nodes" that allow passersby to manipulate the chimes playing it like a giant musical instrument.
The philosophy behind the design incorporates three concepts – the sculpture manifests itself through sound and not sight, it responds to human interaction and remains undiscovered on less windy days but will be particularly active on days with stronger gusts of wind which makes it more spontaneous and dynamic.
The prestigious exhibition that drew crowds of over half a million people last year, received over 350 submissions for a spot and this particular design was chosen among a select few to be a part of the event. Mark, who spent the last few weeks in Aarhus putting the piece together along with a team of assistants, was chosen along with three other artists to be a part of a documentary about Danish national television on Sculpture by the Sea during the construction.
The sculpture is under consideration for awards in eight categories and is up for sale at €26,000.