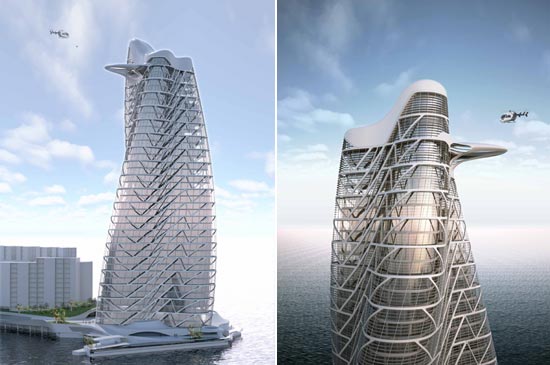 This magnificent 'Strata Tower' is going to adorn the Abu Dhabi skyline by the year 2011. The 40-storeyed residential complex conceived by expert based architects Hani Rashid and Lise Anne Couture, founders of Asymptote Architecture (1989)when complete, would proudly soar to a dizzying 160 meters, being the tallest building in the Al Dana precinct, the most conspicuous point of attraction of Aldar Properties PJSC's prestigious Al Raha Beach development. The structural engineer of this ambitious project is ARUP, New York. The Environmental designer happens to be Atelier Ten, New York & London.
The catchword of the Strata Tower is its curvilinear design, which happens to be a blend of mathematical properties and poetry! It imparts an aura of local cultural landscapes and symbols and clearly depicts the influence of globalization.



The Strata Tower is marked by state-of-the-art infrastructure. Special emphasis has been given to make the building environmentally sustainable. The latest computer modeling and equipments were put to use to give shape to the tower's intelligent, eco-friendly louver system encased in a unique, cantilevered exoskeleton structure. Thanks to the exoskeleton, the entire tower shimmers, posing an enchanting picture against Abu Dhabi's surrounding golden desert and sparkling blue sea.
The Strata Tower, elegant, sophisticated, and positively breathtaking, surely befits the skyline of UAE, a country known for its extraordinary zeal towards growth and development.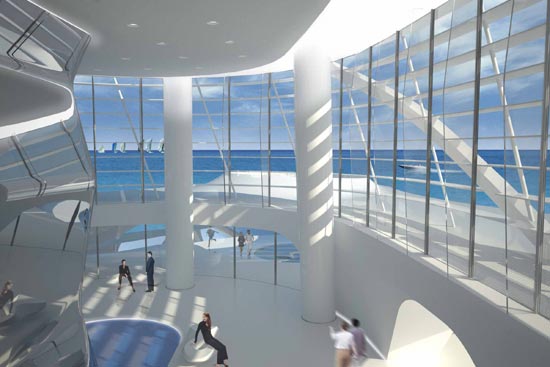 Source: Design Boom