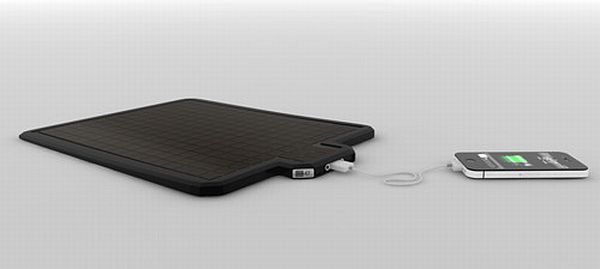 Modern times desperately require products that will save precious resources in this environmentally conscious world. We have already started facing shortage of energy and if necessary steps are not taken, it may take a bad shape in the future. But, we can save energy by altering our lifestyle a bit and it won't require much effort. Designer Nikolay Bastrakov has conceived a solar charger that will harness energy from the sun.
Normally, solar devices don't work when it is not sunny outside and require the rays of sun to fall on them at a particular angle. The portable charger kicks all such notions and can work well in all climatic conditions. This has been made exclusively to charge phones and can be carried everywhere you go. The charger will be crafted from silicone and it will be a one piece tool. It will be caked with an additional film of polymer. This will lend a mixture of suppleness and strength. This will be fitted with solar panels, which will be in the form of small plates. These will be further connected to an intelligent unit (ECU) present on the silicone casing. The intelligent unit will comprise of a battery, a convertor and a micro processor.
It gets difficult to read the display if it is too bright outside, but this charger will make good use of electronic ink technology and make sure that the image neither emits nor reflects light. The intelligent display will always keep you updated with important information. The solar charger is an easy to carry device and can be fixed on a backpack as well. So, save energy the intelligent way and become a planet savior.
Via: Bastrakov