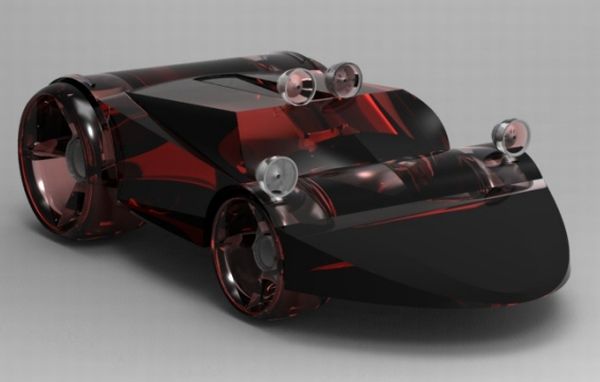 If you have ever thrown (or helped throw) a birthday party, you would be very well acquainted with the fine art of blowing up balloons and thus, would also be very much aware of the forces at work when a disobedient untied balloon escapes and swirls around in the air thanks to the force of the air leaving its elastic guts.
We're sure this particular property of an inflated balloon has inspired a lot of pranks in formal and informal settings, but never ever in our widest dreams did we imagine that the phenomenon could possibly be applied in the field of transportation. Yes, you read it right, someone's actually thought of making a car that is propelled by air!
Designer Rohit Matthew has come up with a car concept that would leave many people a little dumbstruck with its, shall we say, innovativeness. The designer has conceptualized a Transparent All-Terrain Car Concept that would receive its initial motion from air loaded into an air bag. He doesn't elaborate on how the car works once the air from the airbag is fully released or how does the air gets pumped into the airbag and what kind of energy such a pump would use, which basically takes the air out of the invention quite a bit at this stage itself.
The designer goes on to add that the car would be built with materials that would render the car transparent and that this property could potentially make it a great investment for the military. While there are no details on how they would make a driver transparent enough to blend in with the car's transparency, we do think that explaining about a man suspended in mid-air with a mini dust storm emerging from his behind would possibly be a little too much, even for the military!
[Cheers Rohit]