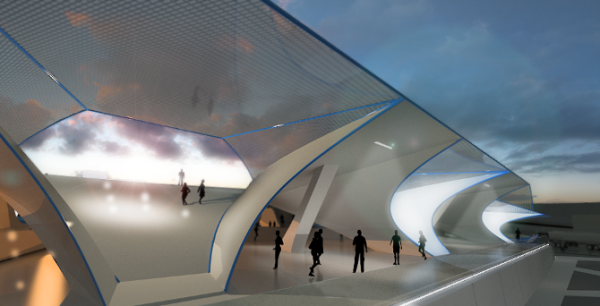 This L.A. public market place concept tries to explore varying surface conditions and its impact on everyday market operation. This market place design has been conceived by Charles Edward Heid of CEH Designs, an architectural firm based in Los Angeles. The design showcases a departure from conventional designs and tries to explore new areas of public interest.
The primary purpose of this design is to showcase the ability of structural elements to conform to varying surface conditions. That is why the design tries to create a series of planes and lines to guide people in the market. The design also contains separate spaces for vendors to set up shops and for people to sit or enjoy the view of the surrounding area. The basic intention here is to create a concept where the vertical elements of the design would blend with the long spanning horizontal systems in order to properly showcase the varying surface conditions.
To make the building's foundation stronger, the entire market place is supported by five large concrete trusses below the surface. This concept from CEH Designs is, indeed, futuristic. No market place has been designed in the past with such thought and ideas. With such design concepts coming up almost on a regular basis, the future of architecture looks to be on solid ground.
Via: CEH Design