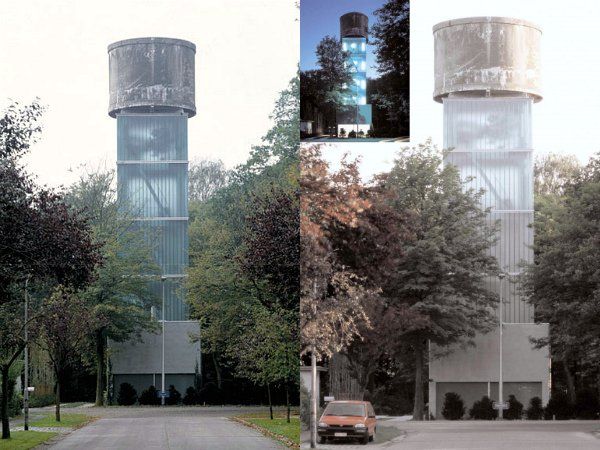 Repurposing is the hottest new green trend in the design world and this fab new housing project highlights how the movement can be implanted across the globe to salvage old structures and make them useful again. A local landscape architect purchased the old water tower from the city of Antwerp and converted in into a fab new dream house with a little help from architect Jo Crepain.
Working on a tight budget, the two applied the "less is more" approach in repurposing the building when the project started way back in 2008. And what was once an old abandoned water tower is now six story apartment with a six meter high living space that is accessible via steep staircases that lead up to every floor. The four story tower is wrapped up in translucent glass panels that may not give its inhabitants a very high degree of privacy, but sure do maximize daylight. Below the old concrete water tower, a winter garden has been created and the whole building overlooks the Braaschaat forest
The water tower apartment, called Woning Moereels, receives a glow from the street lights at nighttime which make the adaptive reuse project stand out against the city's backdrop as a clever blend of the old-world industrial architecture and a cleaner more modern building in modern Belgium.
Via: Inhabitat