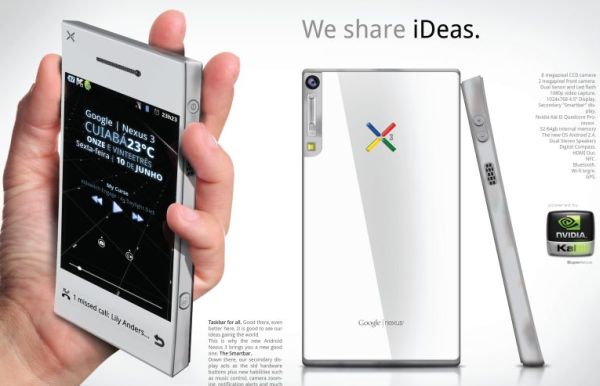 Just a few weeks back, we heard rumors of the next smartphone from Google, Nexus III. And now, we have another concept phone, based on the rumored Nexus III, for you. Leonardo Ferraz is the designer of this pretty looking cellphone concept . In monochrome and black, the smartphone looks quite beautiful. The design is so realistic that if I don't tell you it is a concept phone, you can easily mistake it for the real Nexus III. With a large 4.5 inch display, an awesome screen resolution of 1024×768 pixels and Android 2.4 Ice Cream Sandwich, the concept phone is sure a looker.
But, the smartest thing about this phone is neither the high resolution screen nor the large display, its the "Smartbar" which is really a unique feature of the phone. The Smartbar lies at the bottom of the smartphone on a monochrome display and is capable of showing missed call alerts. That's not all, it can also show some other things, such as controls of the music player, name of the track and the unlock slider. The idea behind the Smartbar is that you wouldn't need to fire up the main screen every time for the small things, allowing the user to enhance the battery life of the phone.
The exciting features of Google Nexus III don't stop at that. The smartphone sports a 8 megapixel CCD camera and has dual flash – XENON and LED. It can also record videos in 1080p. Just like its design, the hardware of the concept Google Nexus III is equally impressive. It is powered by the latest Nvidia Kal-El quad core processor and has internal memory of 32 GB and 64 GB. Other features of the phone include HDMI out, NFC, Bluetooth, WiFi, GPS and dual stereo speakers. The smartphone might also be 4G enabled.As I mentioned in the beginning, design-wise the Google Nexus III concept phone looks quite unbelievably real.
Via: Concept-Phones