The U.S. Department of Energy Solar Decathlon challenges collegiate teams to design, build, and operate solar-powered houses that are cost-effective, energy-efficient, and attractive. The winner of the competition is the team that best blends affordability, consumer appeal, and design excellence with optimal energy production and maximum efficiency. The first Solar Decathlon was held in 2002; the competition has since occurred biennially in 2005, 2007, 2009, and 2011. The Solar Decathlon gives visitors the opportunity to tour the houses, gather ideas to use in their own homes, and learn how energy-saving features can help them save money today.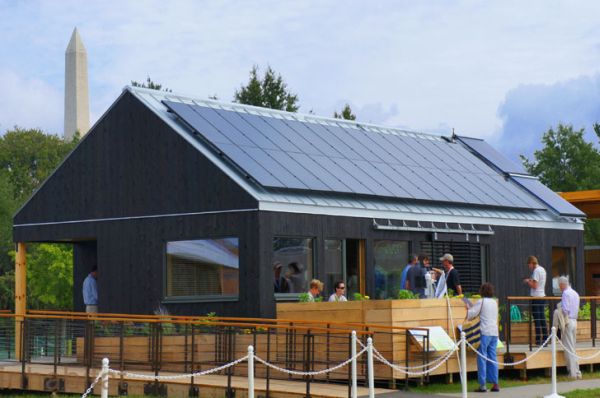 Middlebury Solar House Turns Green Design Into A Liberal Art
The most unorthodox team in the 2013 Solar Decathlon comes from Middlebury College in Vermont. The institution with about 2,500 students doesn't have graduate programs, there is no engineering or architecture school, and all of its team members study liberal arts like English or economics. Developing a Solar Decathlon house is part of a two-semester, interdepartmental class.
The Middlebury students are some of the competitions most dogmatic about across the board sustainability, not mere technical efficacy. Sure, their home is green, but they emphasize that it's also socially and economically effective. Two-thirds of the house is communal space, valuing public over private usage. Materials were locally sourced or manufactured. Wood was reclaimed from New England barns, floors were harvested from maples on campus, and steel was manufactured by a local company.
The squad's nontraditional thinking also informed the design. Instead of the traditional rooftop solar array, the team conceived an exterior walkway shaded by photovoltaic panels. The walkway isn't just a nice outdoor spot, the team members said. It's intended to draw people toward the house so they learn more about it. Other U.S based Solar Decathlon teams trucked their prefab structures to the competition site in Orange County, but Middlebury took its house apart and shipped the components via train in containers. That lowered the team's carbon footprint by two-thirds.
A more familiar sustainable element is the green roof, which contributes thermal mass, sucks carbon and helps to reduce storm water runoff. To protect the house from Vermont's extreme weather shifts, the house has 14-inch-thick walls and a 28-inch-thick ceiling, both insulated with cellulose. The team used denim to insulate seams between panels.
After the competition, the Middlebury Solar Decathlon house will return to campus, where it will serve as student housing.