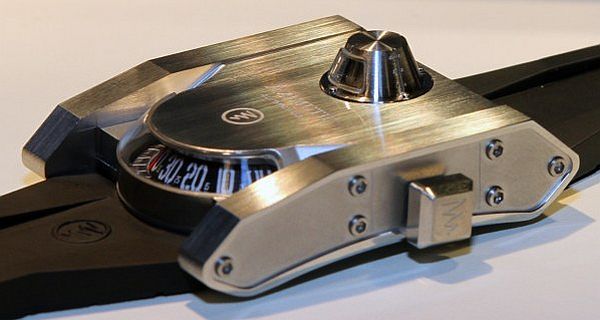 After quite a brief manufacturing period, SP-1 Landship wrist watch has made its final release in the market. SP-1 Landship watch is one of the unique creations in various designs of watches created by Azimuth
The tank has a triangular-shaped pyramid (known as turret) with small opening on top, which is used for displaying the hour giving indications through a cone-style disc, whereas the minute is displayed in the lower section of tank through a red hand that moves over the minute scale. The watch is made of titanium metal of 40mm width and height of 55mm. Moreover, the crown in the side of tank which gives the resemblance of gun turret makes use of sapphire crystals which is said to have water resistance upto 30 meters.
Now, must say that this watch is a perfect buy for people who have thirst for unique gadgets. Below is the commercial video of Azimuth's SP-1 Landship wrist watch, which gives a clear idea about its own achievement on its creative concepts over its past creations.
Via: Ablogtoread