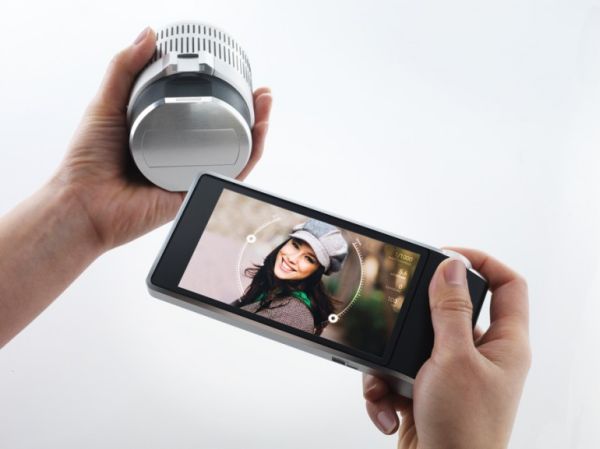 The concept:
Cameras capture precious moments and turn them into memories to be cherished later. Artefact's award-winning design team has thought about a Concept Camera tagged as WVIL camera which will help relive all your precious moments. The camera will comes with various lens options (like a digital SLR) and help you click pictures like a pro.

The overall facade on which the lenses will rest is slender while the lens will twirl in the same old fashioned way. The lens has been designed in such a way that it can be used sans attaching to the body. Sensors and all the other camera components have been wedged in the lens.
The inspiration:
People who possess professional cameras like Canon, Nikon, etc. always have a lot of lenses to get sharp pictures. With WVIL (Wireless Viewfinder Interchangeable Lens) concept the back of any lens can be fastened with a small cap that has a 31 megapixel full-frame sensor. It has also been fitted with a module that is wireless. The Artefact's camera has been erected on a software platform which exploits the modern touchscreen know-how.
The design:
The WVIL system will beautifully and with utmost clarity capture all the important moments of your life. These moments will later become memories and with new-fangled technology the user will be able to click pictures from different angles and an all together new approach. The Artefact Group wants to offer their consumer with onboard flash memory, capturing 1080p video with stereo sound complete with a Cortex-A15 ARM Multi-Core processor which will power the device.
WVIL is a platform onto which different kinds of lenses can be fitted. Doesn't matter if the lenses are new or old, it will make everything work like magic. Latest lenses like purpose-built stereoscopic 3D, remote "party cam", and ruggedized helmet-mount lenses, all can be made to function well. The outer frame, with a battery pack, will be crafted out of aluminum and magnesium alloy.
This frame will be responsible for functions like the lens locking mount, wireless antennas (for WLAN, Bluetooth, GPS and so on), physical control buttons, and micro-SDHC storage. Another piece of information is that the touchscreen display will be given its own battery to stay n an operational mode. This simply means that docking it so that functions of lens/sensor are controlled will take a backseat.
The fabulous:
The product is a blend between fine-quality and smart usage features. It has beautifully soaked in it all the abilities of a smart phone which can be coupled with an exchangeable full SLR-quality optics, that too wirelessly. This device will be like cherry on the cake for those photographers who love to keep the charm of both latest mobile gadgets plus superior quality close to themselves.
The leeward side:
Professional photographers may find it a little difficult to embrace this concept. But with WVIL concept camera all those lenses catching dust by simply lying around can be brought to good use once again. But as of now it is just a concept and hence, a farfetched dream. So, as of now all we can pray is that this dream turns into reality soon, so that we can experience whatever it has to offer first hand.
The target:
WVIL concept camera has been designed keeping the technology driven, Smartphone generation in mind. Apart from the tech frenzy population, it will be accepted with open arms by people, who love to seal memories in the form of photographs. Also amateur photographers that love to capture their surroundings and love to see everything through the lens will be potential buyers of this concept. People who have wanderlust in their blood mostly like to keep an account of that mainly through pictures hence, WVIL concept camera can prove to be quite beneficial.