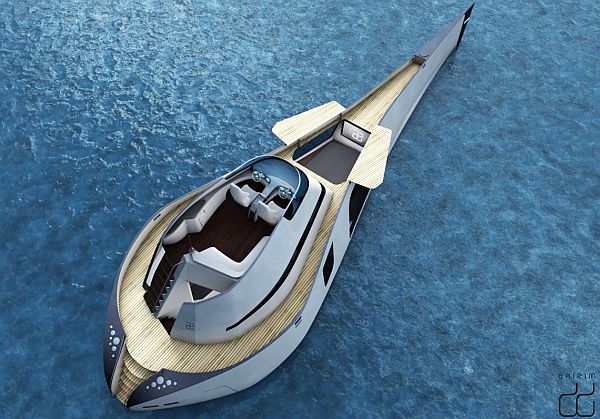 Yacht and luxury are like body and soul, incomplete without each other. Keeping the both united forever yet again is Timon Sager who has built the very sexy Bairim a Visionary Concept Yacht. The yacht with its swiftness and extravagant features make sure that people on it feel majestic.

Bairim is actually an angel of water and the designer feels that with the kind of thrill it will unfurl people will that it is an angel with a magic wand in its hand. The yacht talks speed. It has a no-resistant design that has been optimized hydro-dynamically. This type of designing will make it move swiftly even through rough waters. The facade has been crafted in an impressive and elegant manner with neatly cut curves. Stern of the yacht has been provided with a staircase, which makes getting in and out of water easy.
The port and starboard sides come enveloped with windows that run from the floor right till the ceiling, making the whole experience all the more pleasurable. The yacht has been wedged with all the latest and modern features that will make sure that time spent on it is nothing but luxurious. The deck area has been kept uncovered but has a small hatch. An entertainment room has been positioned below it that gets kissed with sun-rays and sparkles with natural light once the hatch is opened.
[Thanks Timon]