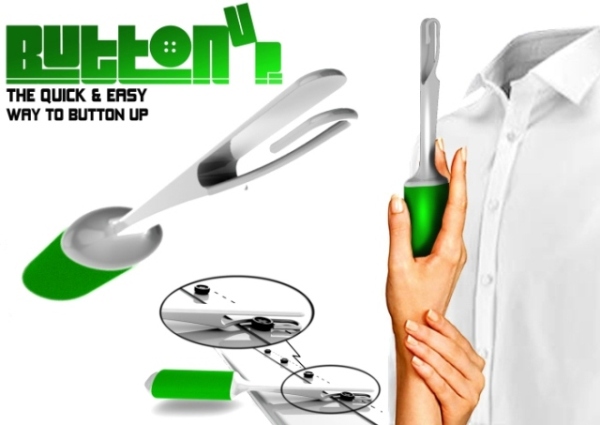 Many arthritics commonly face the problem of doing simple chores which require flexing their fingers, like buttoning their shirts and pants. Finally, someone has taken notice of their plight.
Jonathan O Toole has come up with a new gadget for arthritic folks. The product, called "Button Up", has specifically been designed by him to help people with stiff fingers (which could be for reasons other than arthritis as well) to button and unbutton their shirts.

The beauty of this devise lies in the simple, but effective, design. It is a prong-like instrument which can be used to open and close buttons with a single hand, in couple of easy steps. He says,
I designed this product after seeing an elder man with arthritis struggle with the buttons on a shirt he was trying on in a shop.
The basic concept is for a person to push the Button Up instrument through a button hole, then catch the button on the other flap of the shirt using the hook, and finally, just pull the apparatus back through the button hole, thereby dragging the button into its place inside the button hole. Please check out the gallery for illustrations on how to use the tool.
This is also a great gizmo to carry with you when travelling to very cold places, where freezing temperatures make it impossible for you to bend your fingers. You can just go ahead and put your shirts and coats on (or pull them off!) without removing your mittens.
A big 'Thank You' to Johnny T, on behalf of all the "stiff fingers", for this fantastic invention!
Via: Freshproductdesigns