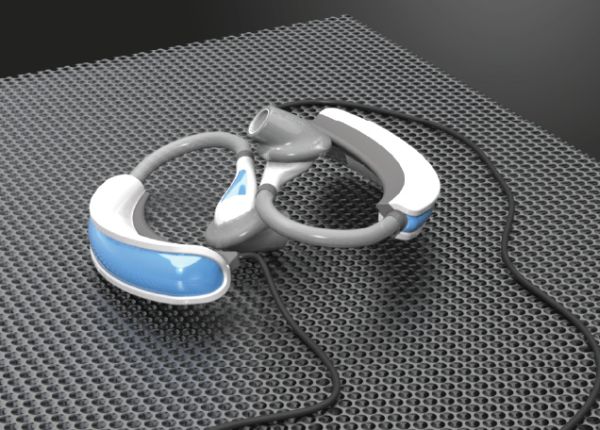 The concept:
Headphones have become an important part of our life, thanks to the introduction of different gadgets especially handy music players and cell phones. Normally what happens is, if the headphone fits in perfectly its price tag shoots up and if it falls in the affordable range in terms of cost, the headphone quality falls as well. Killing all such flaws is Mike Hages form Brooklyn, NY who has designed Tubephones that will not only wrap around your ears faultlessly but will make you experience great sound as well. This is possible as the huge fraction rests neatly behind the ear giving a perfect fit and making it look sleeker. An acoustic tube fitted in the Tubephones delivers great sounds by the use of an acoustic tube.

The design:
Tubephones win over all other devices simply because of its ingenious concoction and exclusive crafting. Music lovers will be happy to know that the Tubephones neatly find a place behind the ears while the earpiece comfortably fits inside the ear. This earpiece which measures just 60% of an ear bud hides its visibility when plugged in the ear. The whole experience is awesome as transmitted sounds reach the ear through an acoustic tube, enhancing the listening affair. The whole designing is extremely tough as the ear clip and housing grommet have been co-casted in the company of the housing only. Since, a major chunk of the design finds a place behind the ear, it gives the noticeable part a petite appearance.
The fabulous:
This lustrous and curvy headphone will give an amazingly perfect fit, delivering nothing but sound of clear and high quality. The designing is as distinctive as its sound quality. The melody will directly travel till your ears with no interruptions through the acoustic tube. It comes with extra space which can used to swap it into a wireless piece by using the Bluetooth technology.
The inspiration:
The sole inspiration is to make the user experience sounds of high quality coupled with utmost clarity. Keeping the designing minimalistic and its usage experience awesome, Tubephones manage to stand out.
The target:
The product directly targets audiophiles who are fans of good quality music. Its minimalistic looks and durable designing makes it an instant hit amongst the music loving community. So, without a second thought the Tubephones have been made exclusively for such people.