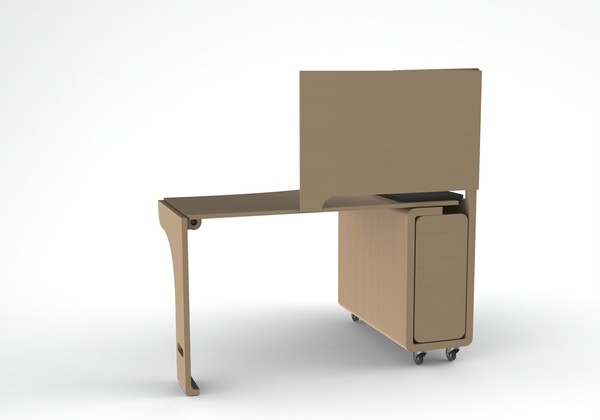 With shrinking living areas, multifunctional furniture is the need of the hour. A designer named Patricia Tait paid heed to this and came up with a unique piece of furniture. Christened the Studio Desk, it will prove to be an apt study as well as storage space for students.
Students always face a space crunch while storing their stuff. The desk will unfurl a lot of options, which can be used as per the user's whims and fancies. The furniture piece is foldable and will help save precious space. It comes fitted with all the important features that will prove to be of great help for students. Studio Desk includes a lamp, cut mat, pin up board and a storage area. The table has been ingeniously crafted using molded plywood which makes it a durable option.
It comes fitted with a track and spring system which makes it easy for the user to snap apart the surface of the desk. Put it away when not in use and create extra room for other activities. Users can easily stow away cut mat and fold the lamp as well. The pin board has been given swinging properties and it can be easily locked in a crammed or active arrangement. It has been fitted with a lockable door and drawer, which can be used to keep important documents and books.
Studio Desk is a great storage option and will save precious space. With so many distinctive and foldable properties, the table will prove to be a boon for students.
[Cheers Patricia]