As someone who comes from an industry where you are on your feet all day we know how important it is to have the correct footwear, comfort is key. This is especially vital for those working on building and construction sites who are up and down ladders and platforms, in and out of dirt and uneven surfaces and moving non-stop to get the jobs done.
Being in a pair of shoes that feel light as air or like you're walking with dead weights tied around your ankles, can make or break your day. You end up counting the minutes for the day to end so that you can take your shoes off in the car before driving home to soak your tired swollen feet.
This doesn't have to be the case, there are newer models and bespoke designs that can take the tiredness out of your feet. Pairs that provide support with air vents allowing circulation throughout the day, keeping the blood flowing.
What to look for in a good pair of construction boots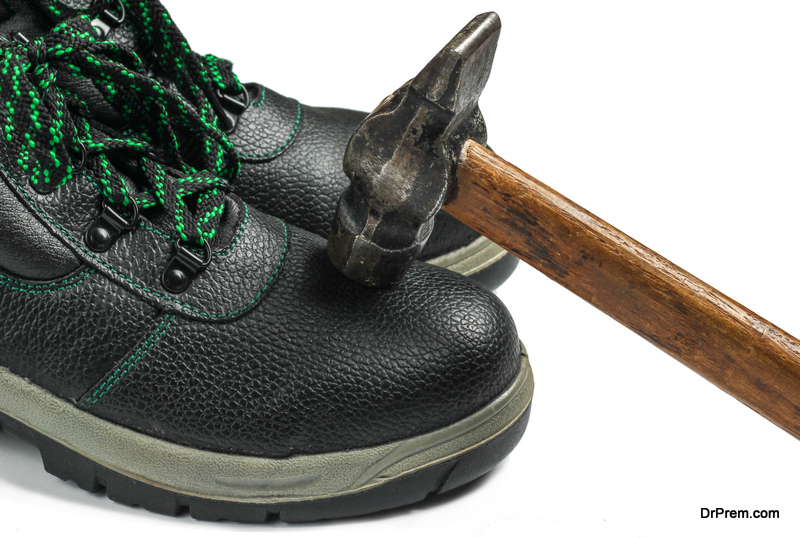 Depending on the area of the site that you work could determine the specific footwear best suited to you. With heavy carrying and loads going back and forth having steel toes in your boots seems like the critical element in safety and ensuring you keep 10 toes.
These can be in various materials from steel to composite and also aluminum. Trying on the different styles and walking around the shop floor will help you get a feel for it and see what you might feel comfortable in for many hours in the day.
Some of the more technical models have specialized Kevlar fibers to increase your protection against fires and abrasions, and when it comes to the soles of shoes the more common compound in its construction is rubber. It's a great all-rounder including slip-resistance, oil slip prevention, and chemical protection.
At the end of a long, hot working day your feet shouldn't have been rubbed raw and blistering, this is a sign that something is not fitting right. You need something that is soft and can mold to the foot, but sturdy enough to support the ankle from rolling over.
While you might think that finding a cheap pair is the bargain you've been looking for, don't be fooled. Check out this quick video on Expensive vs Cheap Work Boots with advice on expensive versus cheap, the latter not always being the most viable option.
Looking for the right height of boot for the job is also a factor to consider, water-resistance being another and then insulation all going hand in hand to give you the correct overall best-designed shoe.
4 Tips for good boot maintenance
1. Rotation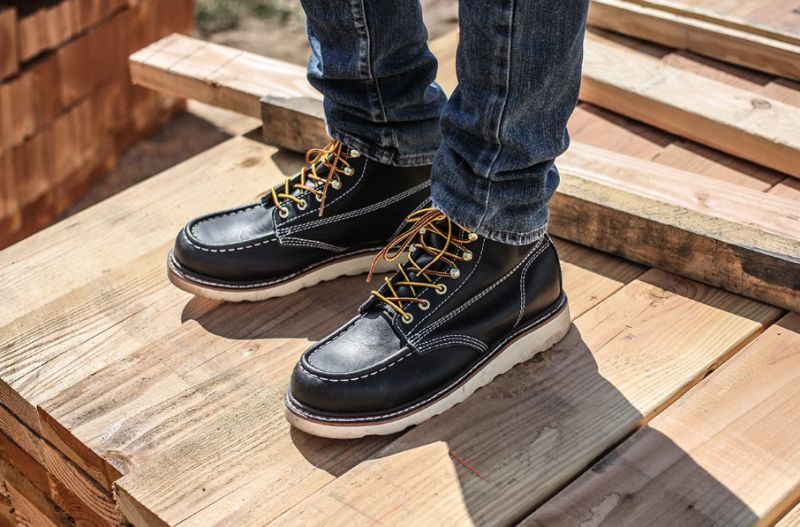 Feet sweat and swell being in them all day, having another pair to swop with will allow the boots to thoroughly dry out between uses and your feet will be happier and more comfortable.
2. Cleaning
After a slog of a day, as tired as you are, take a minute to brush off the mud and dirt from the boots. Removing this excess will keep the leather from drying out, all it takes is a simple buff and you're good to go.
3. Conditioning
Once the boots are dry and clean give them a rub over with leather oil conditioner, this keeps them sealed and supple. Other types including water-proofing also help but don't add to the boots softness.
4. Drying
Be sure to keep your boots dry, if they get soaked or it's been a particularly hard day, stuff them with newspapers to soak up and draw out any moisture that may be present.
For a guide into some of the top boots for working and construction, check out this black boot model designed with the working man in mind. Simple, chic and functional, it's a win-win if you ask me.
While I may not have had above ankle boots working in the kitchens all those years, I now understand why they could be so beneficial. Days are long and work is tough, even ankles get tired holding everything together, with the correct support though this can be less of an issue.
Choose wisely and invest well, you want to work in comfort and style, and now you can. 
Article Submitted By Community Writer