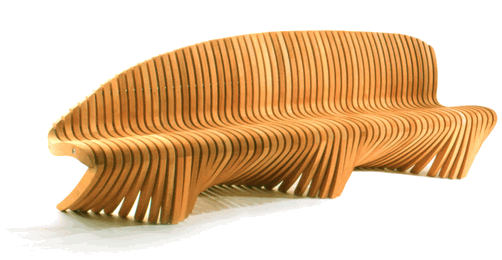 Here is the latest Spirit Song Collection from the experts in wood furniture-Diamond Teak, Pennsylvania. They are known for their unusual concepts, exquisitely hand-crafted teak furniture using sustainable, plantation-grown materials and environmentally friendly methods. They have stuck to their style this time around also.
It consists of Benches in varied curvatures, lengths, and back-rest designs. Each piece of wood is spaced and tapered to give a very finished look, leaving few straight lines. The zig-zag of the individual slates supports the benches front and back weight load providing lots of comfort. They are completely weather-proof and thus suitable for both indoors and outdoors.

Bench lengths range from 69″ for $2990 to 100″ for $4630, and depths 29″ to 36″ depending on curvature, with all seat heights a standard 18″. There are also a series of backless models with similar sizes.
Source: Furniture Fashion