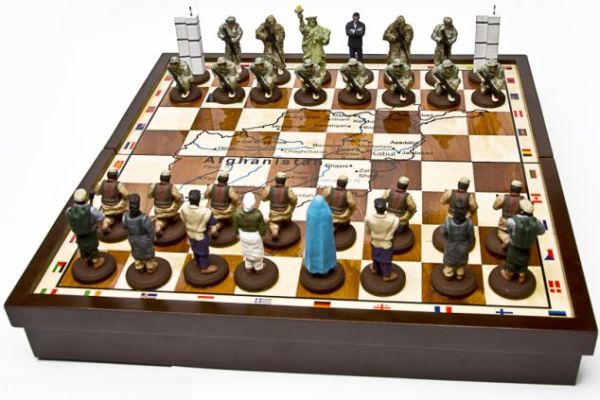 Profiteering from war is an allegation that the US and its friends from across the pond have to live with every time they try to "liberate" some strife-struck nation. But this interesting new chess set takes that nuances of the allegation to a whole new level with traditional pieces being shaped to look like leaders of the so-called free world and their armies. However, things get really interesting when you look at the pieces on the other side which features Osama Bin Laden as the king backed by his gorilla-warring terror posse!
The "Terror Chess" set has proved to be quite a hit with troops serving in Afghanistan and there are several versions of the set to suit soldiers of British and American armies but the Al-Qaeda pieces are featured in all variants. The U.S. version of the set features the president as the king, the Statue of Liberty as the queen, snipers as bishops, soldiers as knights and the twin towers of the World Trade Center as the rooks. Kneeling insurgent foot soldiers play the part of the pawns.
In the British version, current Prime Minister David Cameron is the king while the queen is made to look like, well, the real Queen of England, Elizabeth II. The rest of the pieces are similar to the U.S. version with the army men being clad in British uniforms and the rooks being made to look like Big Ben.
However, it is the Al-Qaeda pieces that are by far the most interesting ones in the set and are undoubtedly the first ones of their kind in the whole world. Osama Bin Laden, even though he is allegedly dead and buried now, plays the part of the king while an unidentified burkha-draped woman plays the queen. The stereotyping here may be all wrong but at least it says something about the empowerment of women in the region, sort of, maybe. The bishops in the set are Muslim Clerics, which is again a very negative and possibly offensive stereotype, while suicide bombers laced with explosives and fighters armed with rocket-propelled grenade launchers stand in for knights. Kneeling Qaeda fighters play the role of pawns.
The chessboard also gets a special war-time touch with a map of Afghanistan being superimposed above the regular chequered design and adds the extra political touch to the set if any was ever missing. The scandalous set is created by ex-Canadian Special Forces soldier, Jeffery Train who is also the CEO Hobby Leisure Manufacturing which produces this set and retails it from a German postal exchange. Train has so far sold over 1000 of these sets and has received countless orders for sets to feature armies of other coalition nations.
Via: Daily Mail