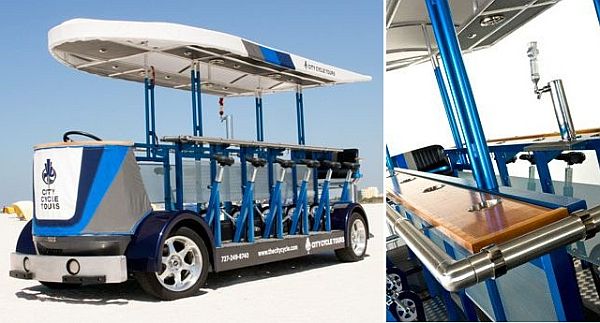 One of the most popular green modes of transport, the bicycle has undergone various changes in the course of time. This time, Casimir Sienkiewicz and his team at Caztek Engineering have done something really fascinating to the simple vehicle. They have built a 14 seater, pedal-powered pub that can be conveniently used by City Cycle Tours of St. Petersburg Florida. The City Cycle design technique resembles custom automotive construction. This cycle can be propelled even if the passenger number is 10 out of 14 at least.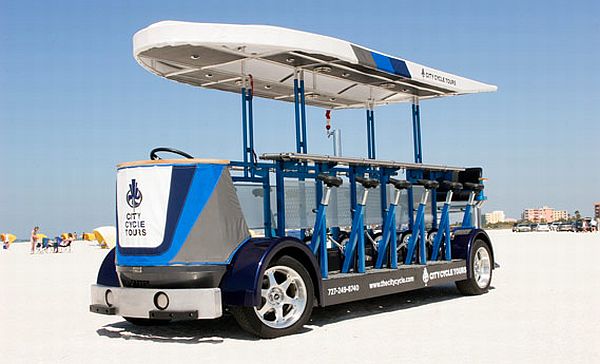 According to Casimir, the City Cycle is:
tricked out with a keg, tap, in-floor coolers, beefy stereo system and dramatic LED lighting to provide a totally new lounge experience. The designers incorporated a low running-board-style deck as well as adjustable seat posts to accommodate a variety of heights and abilities. Also included are a grab-rail for the peddlers and a driver-forward design that creates an open deck for socializing.
The design of the city cycle was prototyped digitally rather than in real metal. The website of City Cycles displays the 3D models along with the concept sketches of the cycle. The result is the cycle that seems a hybrid of Hopsworksfiets beer bike and a city bus. More information is available on Caztek Engineering's Youtube channel and the official Facebook page of the City Cycle.
Via: design stores