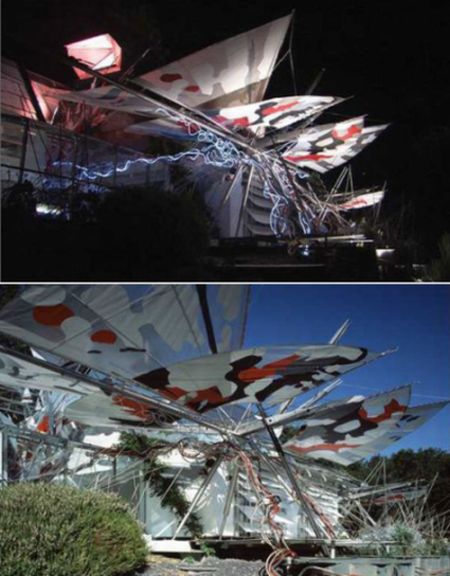 If you think that 'The
Butterfly House' is a house to the butterflies placed in a zoo then let me
clarify that, the Chetwoodd's (family of four) are the proud residents of this
beautiful house, extraordinary in design and idea as well. This renovated
family home is located in Surrey, England and is very astonishingly inspired by the life cycle
of the Butterfly. Every part of the house represents each change from larval
stage, represented by the walkway, to the chrysalis, which is seen in the
staircase and conservatory, to the winged canopies outside that represent the
emerged butterfly. Raised of timber, Kevlar
sails and steel, copper and plastic ducts, including more than a mile of bungee
rope, over 320 feet of fiber optic cables and 50 interwoven carbon fiber
fishing rods, it is indeed a marvel and dreamlike house ever constructed.
This
unique house high on imagination and design serves various purposes at the same
time, for it is an artwork, a laboratory for architectural experimentation, a
family home, a design studio and an attraction. This artificial butterfly house
however attracts real butterflies by the plants it surrounds like the Lavender,
Hebe and Buddleia. This house is surely a revolution in the zoo-morphic home designs.
Via: Hgtv