Give your books a creative rack
Books form the important part of every human's life. Whether you are a school going kid or a professional or an old age retired person, books are the commodities which could be your companion at any age and for every purpose. Thus, every household have bunch of books that need to be kept properly at one place so that they could be looked for easily whenever required and should not be placed in a scattered manner in the rooms, making it look untidy. However, if you are a creative person and want to make your book shelf the centre of attraction of your room then you can certainly go with the following innovative ideas that would help you to have a unique book rack in your room:
Invisible book shelf

– If you wish to have various shelves for your books on a wall that gives a magical and interesting look to the viewers then having an invisible book shelf is certainly designed for you. You only need to get a plain shelf attached to your wall with the help of screwdriver and attach the cover of one of your books from the bottom of the shelf while placing the other books on it. However, you would need to make sure that the weight of the books on a single shelf is not beyond a certain limit or your shelf might get detached.

Industrial book rack

– Have you ever got irritated with the broad long pipes placed outside your house that cause a hindrance for the beautiful look of your place? Well, now you can use the same pipes in a really ethnic manner to create your book shelf. You can get the heavy pipes of iron attached in your room in a zigzag manner and pain the entire corner in a very historical manner while arranging your books on the pipe installed.
A reminding book shelf

– A simple straight book rack attached to a wall could be given a creative look by simply dividing it into two different level and placing a board at the beginning of each level stating "have read" and "yet to read" labels. This would not only give your book rack a thoughtful look but will also help you to find the books easily and you would be able to keep a record of the books that you have not read yet.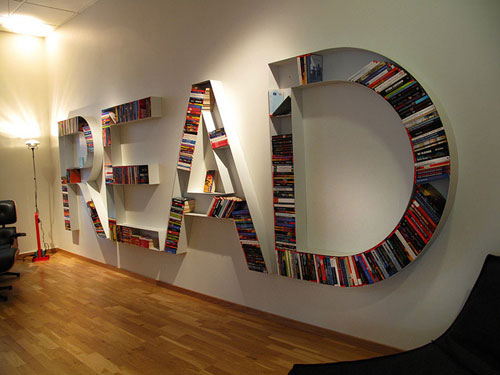 Tree shelf

– If you have a romantic side to yourself and want to decorate your room with the summer feel then you can get the wooden book rack designed in the shape of tree which its branches serving as the book keeping shelves. This rack would not only give your room a perfect look of summer evening but it can also hold lot of books in its braches as it is quite spacious and the branches could be extended in case your require more space for your books at any point, without having to get an entirely new rack for your increasing collection.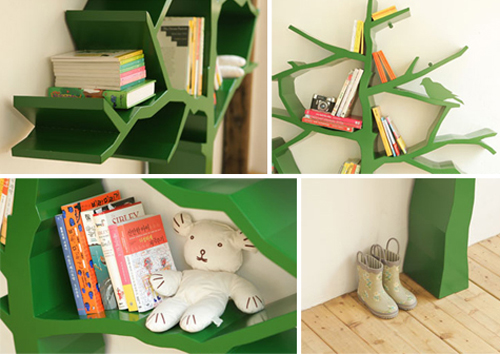 Chair shelf

– You can make your wooden living chair a rack by simply getting the curve space otherwise filled with broad wooden surface void that could serve as a book rack. Keeping in mind the space problems that the modern families feel in their houses, this rack-cum-chair is the most innovative idea to arrange your books at one place while saving the need for the extra space that you would have otherwise required to set up a book rack.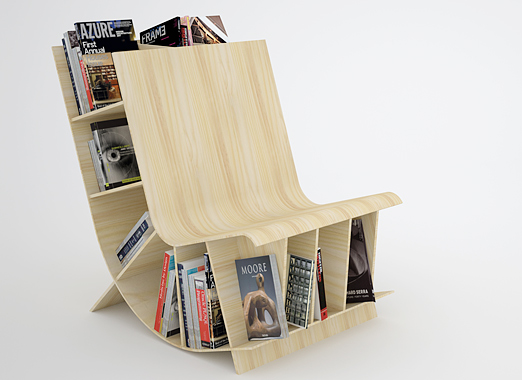 The above innovative ideas have been awarded at various occasions and have been acknowledged by the people of various fields simply because they do not only enhance the look to a corner while serving as the books storage but are also quite affordable to get installed.