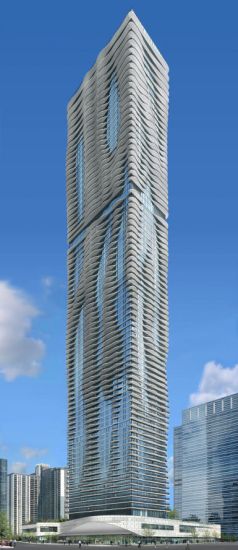 When one hears of a plan of a new tower in Chicago being laid down, one of the first questions that spring to mind is, how good a view would that tower have? Any tower in an increasingly congested city like Chicago has to be designed with extreme care so that it might command a decent view even in the presence of other tall buildings. The Aqua Tower in Chicago has been designed accordingly, ensuring that one would be able to get a satisfactory view from it.
All the important elements of a new tower, including views, solar shading and function, have been given due consideration. The building sports a sculptural form due to the presence of a vertical system of contours. The outdoor terraces of this innovatively designed tower define its vertical topography. Over the length of the tower, the plan of the terraces undergoes a change too.
The Aqua Tower, designed by the Studio Gang architects, would allow its residents to occupy the façade of the building as well as the city, while its terraces provide a strong outdoor connection. When viewed obliquely, this highly sculptural building resembles a slender rectangle from a distance. The tower sports a strong and powerful structure, indicative of the geologic forces and limestone outcroppings that had originally shaped these regions (Chicago, in Illinois, is part of the 'Great Lakes region'). The rippling effect of this uniquely crafted tower is derived from its undulating balconies that change slightly from floor to floor. The façade of the Aqua Tower would be of glass, and the balconies will extend to a maximum distance of 12 feet (or, 3.7 metres) from the glass walls.

The total area of this tower would be 55,000 square feet (or, 5100 square metres), including retail and office space. The tower would have 80 floors in all, with 210 hotel rooms (floors 1-18), 476 rental residential units (floors 19-52) and 263 condominium units and penthouses (floors 53-80). In fact, the Aqua Tower is set to be the first downtown building that would combine apartments, hotels and condominiums.

Strategic Hotels & Resorts, the leading owner and asset-manager of high-end hotels and resorts, has already agreed to take over the first 15 floors of hotel space of Aqua Tower, as soon as the building is complete. With its innovative designs, powerful structure and rather unique and attractive appearance, the Aqua Tower surely has all the potential to become a modern architectural genius.
source:worldarchitecturenews