Furniture historian say that before the industrial revolution changed the standard of living of the masses around the world, most non-rich people did even own chairs in their homes. Tables and other furnishings in the house were also almost non-existent though people that worked in the homes and offices of the rich often created makeshift tables, stools and chairs out of barrels, wooden boxes and even logs and stumps. In the modern era, people still use barrels and wooden boxes as furniture though these days if you do so, you can call yourself dubbed 'artsy', 'inspired' and 'eco-friendly' instead of 'dirt poor'.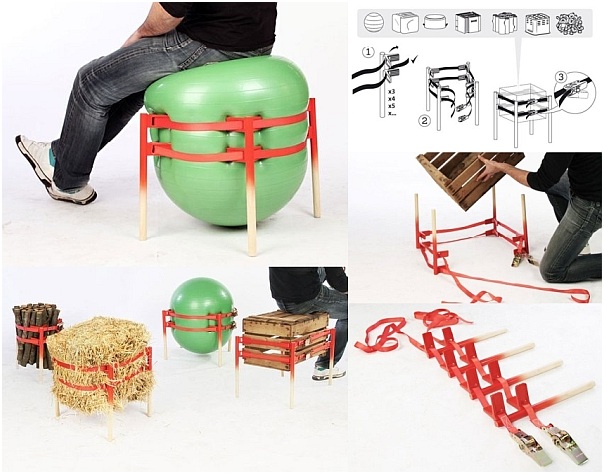 ---
If you too are such a person who likes to turn everyday objects into chairs and stools, you would absolutely love the Stooler. Created by the design studio owned and operated by Spaniard Andreu Carulla for Utoopic, the Stooler is essentially a DIY project that comes with a bunch of adjustable ratchet buckles and four wooden legs. Users can use these basic elements of the project and turn almost anything into a fully functional stool. You can use a bale of hay, an old cushion, pillows, stuffed toys, exercise balls and whatever else you may fancy as a stool and turn it into one using these basic elements.
The Stooler doesn't require one to be a creative genius or an expert with professional series of tools to create which means that it also makes a great gift for the more feminine of women, teens and children and even grandparents who aren't allowed to operate power tools anymore. As an instant stool maker, the Stooler can also be a great tool for hipsters who can use it to create a whole homeful of furnishings recycling things they found (read: looted) from their grandparents' homes!