The iPad 6 is on its way and blogs all over the internet are going nuts over what the new design will look like. Just like the iPhone 6, many people are coming up with same pretty cool concept ideas for the new iPad 6. Concept ideas are the results of creative thinking that give us an insight into different possibilities, in this case it's about the new iPad 6 design.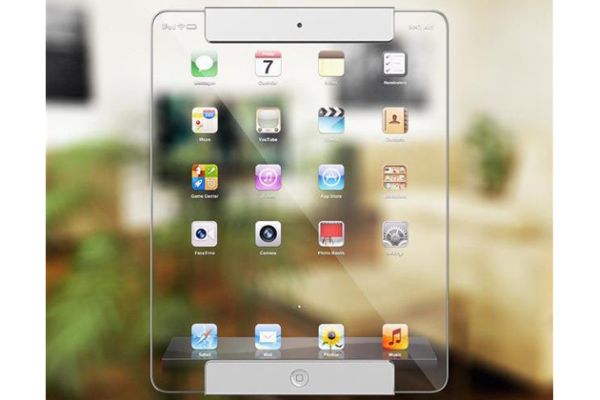 But we have yet to see the launch of the iPad 5, so the iPad 6 won't show up until much later. This hasn't stopped geek3dfr, a Deviantart.com member from sharing his idea of what the iPad could possibly look like. He has developed an artist's sketch of a transparent iPad 6. Of course, transparency is a trick that the world of technology has yet to master, so obviously, the iPad 5 won't be transparent. But is it possible for the iPad 6 to be built in a way that makes the body of the device transparent? We can see his concept design on any website, and it looks absolutely stunning. A lot of people love the design and want the transparent iPad 6, but unfortunately, people will have to wait for the iPad 6 to be made.
Features Highlighted in the Concept idea:
The concept design doesn't only focus on the external body of the device, but includes the features as well. The high definition front facing camera has 3D FaceTime option. The icons for the applications look antique and give it a very old fashioned feel about it. There are two metallic bars on the bottom and the top of the device that house the camera lens and navigation buttons, but the home button does not serve as a fingerprint scanner. These two metallic bars will also contain all the other components of the iPad in order to truly give it a transparent look; this will also mean that the components will have to be really tiny.
If it is possible for companies to develop transparent material that will be used to make our gadgets in the near future, then it would be possible to have a transparent iPad 6. If it is made and sold, then we will probably be buying the device to not only show it off to all concerned, but also because a transparent iPad will be the first of its kind in the tablet market. Such a development will also be a leap forward in pushing the boundaries of technology.