To create the small and efficient kitchen design, you need to work on three major areas which are storage, lighting and appliances.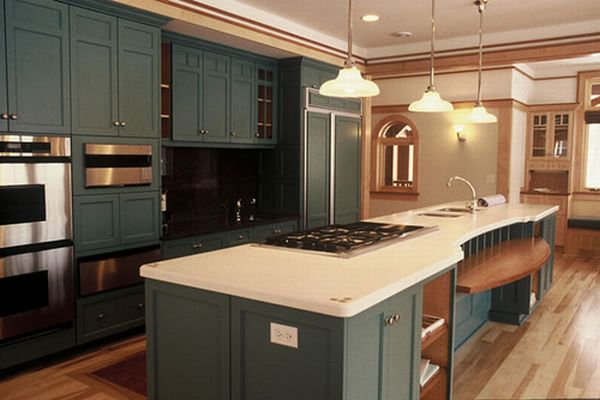 Things To Consider Before Designing Your Kitchen
1. First, your kitchen should be easy to use. Functionality is one of the hallmarks of a great kitchen, which makes tackling day-to-day cooking easier and less stressful.
2. There is a saying in interior design that 'Form Follows Function'. But, functionality has to back by aesthetics. So, kitchen essentials should be useful, but also aesthetically appealing.
3. An 'ideal' kitchen has to be one which can be easily maintained and whose upkeep should not be a chore. For example, if a wrong countertop or dado is selected, then maintenance can be difficult and time consuming.
4. Ergonomics have to kept in mind while designing a kitchen. For example, if the person using the kitchen is left handed then the design has to take this into account and provide for accordingly. Similarly, if the user is short or extremely tall, the counter height should be designed accordingly.
5. Equally importantly, appliances have to be planned well. At the time of developing the plan of the kitchen, make sure the appliances are appropriately placed and beautifully presented so as to bring out the best of both functionality and form in the kitchen.
6. In the case of an open kitchen, it has to be coordinated with the theme of the rest of the house. This will give a synchronized look and feel and provide a sense of harmony and wellbeing to the living space.
7. In contrast to the point made above, you could choose to design the kitchen in complete contrast to the rest of the house. This will not only give the kitchen its own 'personality' but also showcase varying tastes of the owners.
8. Today, the kitchen is a very important part of the house, it brings the family together. Bearing this in mind, it is very important that the overall layout of work surfaces, breakfast counters, seating arrangements and other utilitarian aspects are in keeping with how it will be used by the family.
Summary
If you have a small kitchen to remodel, then the problem of creating a fabulous kitchen simply comes down to what you can fit and where. Even with a limited budget and building restrictions, you can find that there are many options to create and transform your kitchen into something that meets your needs and vision.