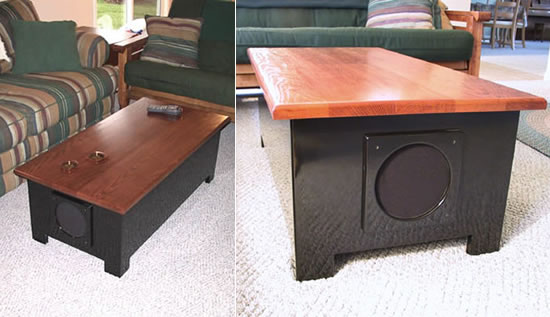 Some blokes fail to pick up stuff off shelves (however superior they are) as their obsession for customized products overrules their sanity. And here are two such guys who teamed up for a project to design the Thunder Table. And going by its name, if you are getting ideas that it's a table that will thunder, then you are very close dear! It's essentially a mean speaker tucked into a darling coffee table. Intended to construct a box that could dish out those punishing, chest-thumping tones, yet also function as an aesthetically pleasing coffee table, the duo have done a remarkable job. It ain't easy to stuff a tailor-made subwoofer speaker in to the belly of a elegant coffee table and retain all acoustic elements to the fullest. And that too without damaging the current interior décor.

Starting of with a 18″ Kicker Competition driver and NHT SA3 amplifier, they put their woodwork skills also at test and the final out come looks right at home in her natural habitat. Modest and clean with rounded edges, it was topped with White Oak richly stained wood to enhance its subtle elegance. For about $1,000, it isn't gonna pinch your pockets but requires hell of a hard work and determination to put it!
I need to clear one doubt with the designers – Is it possible to lay your coffee mugs on the table while its doles out thundering music……without getting them cracked or thrown off?
For more techie details, you can read here.