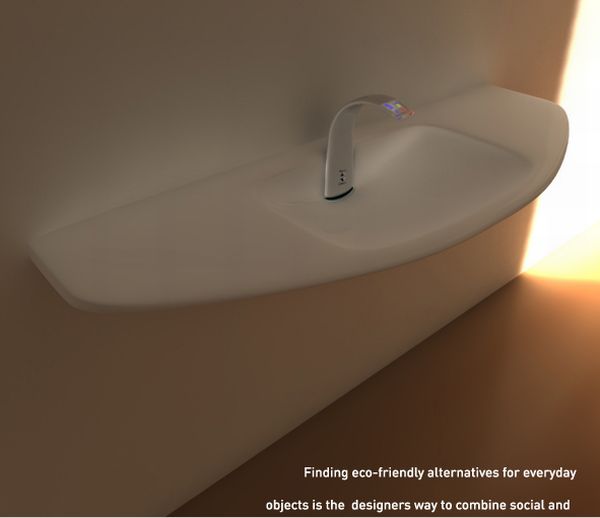 Being eco friendly or conserving electricity or being a crusader against global warming does not necessarily mean that one needs to give up the luxury and comforts of life and adopt a lifestyle that's simple, drab and restrained. Here's one example of saving energy and water consumption without compromising on your style and status. The "TipTap" by Portuguese designer Alain Monteiro is an electronic heating system, which can be attached beneath the washbasin, to heat the water that flows out of the water tap. Usually, the time taken by a heating system located away from the tap results in wastage of water, energy and time. TipTap does away with this by heating only so much of water that you use and utilizing the residual heat to keep the washbasin warm.

Marvelous, isn't it ? Well, TipTap is laced with some more extraordinary features that contribute to water conservation. This highly technically advanced water heating system performs the following functions helping you realize the importance of being environment friendly. The Tap keeps a tab on the water the amount of water consumed. It has an indicator, which, based on the water pressure, displays the quantity of water consumed. The Tap produces air bubbles and mixes it with water to further reduce water wastage.
Further, the Tap has a hot or cold OLED button option to choose the kind of water you wish to use. If you wish to make the washbasin water-tight press the Tap itself in up or down direction to open and close. And last but not the least, the Tap keeps itself clean with the help of nanotechnology. There are microscopic hairs applied on the surface of the Tap to create the 'lotus effect', which prevents dirt from adhering, and only a small quantity of water is required to wash the dirt away.
Now, isn't that a nice and simple way to be a part of the save the planet movement? And what does it take to contribute? A simple everyday object like a washbasin! After all, it's not difficult to be simple, right?
[Cheers Alain]